Ousmane Dembele red card hard to overturn
The referee's report is definitive and history shows hard to overcome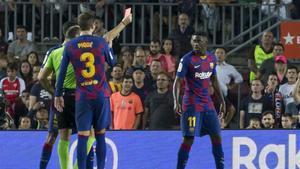 Ousmane Dembele's red card against Sevilla will be very hard to overturn and he is set to miss the clash with Real Madrid. The RFEF code says insulting a referee comes with at least a two game ban.
A new setback for the Mosquito, who takes one step forward and two back. Mateo Lahoz sent off Dembele for saying "very bad, you're very bad" after he dismissed Araujo wrongly.
In 2016 Celta midfielder Fabian Orellana was banned for three games for telling the referee "how bad you are". Two for the insult and one for getting two bookings.
There is only one remote possibility, which is the committee interprets Dembele's attitude as contrary to good sporting orer. In that case he could be banned from one to four games - one would see him miss Eibar but not the Clasico.