Oscar Mingueza interview: On Eric Garcia competition & Messi's future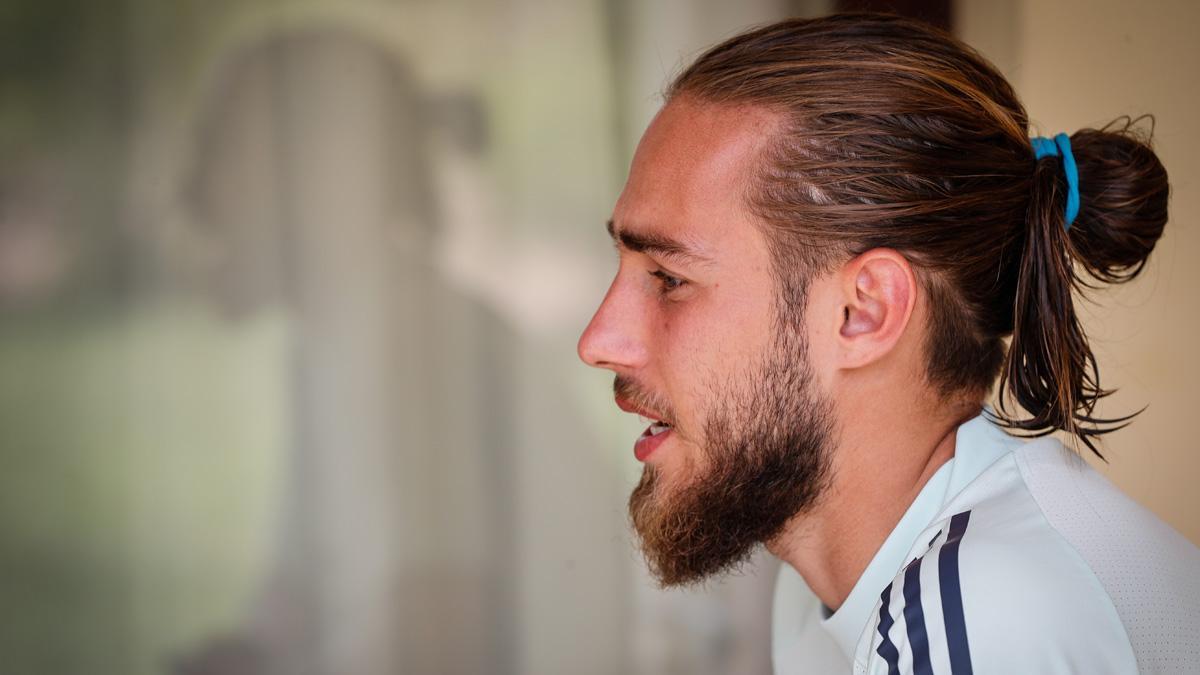 The Barcelona defender spoke to SPORT ahead of the Olympic Games this month
Circumstances last season meant Oscar Mingueza's first-team chance came sooner than expected and he took it with both hands.
Since he broke into the squad at the end of 2020, Mingueza has earned coach Ronald Koeman's confidence and he hopes to keep improving at Barcelona.
Mingueza has clear ideas on and off the pitch. Despite being just 22, he's comfortable as he sits down to talk with SPORT, a smile never leaving his face.
It's been an intense year, with the pandemic and promotion to the first team. Now he's recognised on the streets, stopped when he takes his dogs out in Santa Perpètua de Mogoda.
Before preseason with Barça, though, he has an international commitment. He will take part in the Olympic Games as part of Spain's U23 squad in Tokyo this month.
Do you think this is all a reward for the confidence Koeman showed in you?
Yes, at first I got a chance because people were out, but then he showed confidence in me and it's thanks to that, but also thanks to the people that have helped me work hard, that have helped in the dressing room, previous coaches... it's a culmination of everything.
You've responded with Barça and the national teams.
When you're given a chance, you have to take it and show that you can cut it and you deserve it.
Pedri and Eric Garcia are also off to the Olympics. Is that a help?
Just like last season, that will unite us on and off the pitch and improve the link between us. Being in the bubble together will unite us.
Eric Garcia, how would you define him?
He's a player who's good on the ball, who also reads the game well and defends intelligently. He's really good in both attacking and defensive phases.
Pedri...?
He's a midfielder that can give the final pass, combines well, but also knows how to defend really well. He works really well in defence and then gets forward to provide constant support. The majority of times when the opposition reach our box, you see Pedri there as well. A midfielder of his age, with that capacity in defence and attack helps a lot.
¿Oscar Mingueza?
I'm a player that can play as a centre-back or a full-back and I can bring the ball out from the back. I also consider myself an intelligent defender and I have improved in terms of aggression.In addition, I can compete well for balls played in behind us.
There will be more competition with Eric Garcia.
At the end of the day, we're teammates. It's true there will be more competition, but that will help us improve and improve the team.
I imagine you're happy Koeman's staying on.
Yes, I am delighted for him. We've had better and worse times throughout the year, but I think it was a good season. What we did from the halfway mark until the last four or five games was incredible.
How do you see next season?
I'm really looking forward to it. I'm excited. I am convinced the new signings will add quality and I am sure with what we have and what's coming in we will have an incredible group of people and footballers.
Are you worried about Messi's future?
Of course you worry about if the best player in the world will stay or not, but that's to do with him and I don't think we should get involved. It's his decision and it's part of his privacy. But anything we can do to help keep him here, we will do.
Is he close? What's your relationship with him like?
At first, it's a little bit imposing, but the truth is I was surprised by how close he is, how good a teammate he is, how he leads in the dressing room and how much he helps the youngsters. Personally, he's helped me a mountain.