Operation Neymar: The five keys to Barcelona return in 2020
Barça's relationship with the Brazilian has improved over the summer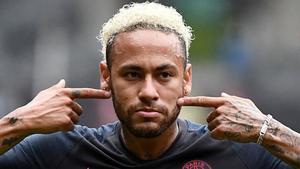 No one at Barcelona doubts Neymar any more. There were some at the club who weren't sure if he really wanted to return or not this summer after he quit in 2017 for Paris Saint-Germain.
However, the fact he did everything he could during recent months to try and come back to Camp Nou has led to a change of opinion among the Barça hierarchy.
The relationship between the board, headed by Josep Maria Bartomeu, and Neymar and his father has improved, having broken down when the Brazilian left for PSG for €222 million.
Barça are already thinking about next year, when there could be a chance to sign him for €170m under FIFA's compensation rules.
Here are the keys to that happening.
1.- Barça AND ONLY Barça
Neymar Jr. went to Barcelona in May to communicate his desire to leave Paris. It's the only club he contacts. He wanted to know, first hand, if it would be possible. Since then, the Neymar family have stood firm on that idea, even when there was no contact from the Catalan club for a few days. In fact, it's that stance which allowed the saga to drag on to the end of August, with Barça's offers all turned down by PSG.
2.- SALARY DROP
Neymar Jr. quickly reached an agreement over a contract with Barcelona, aware that he wouldn't earn as much at the €38m net he pockets in France. To heal the wounds made by his exit two years ago, he agreed to drop his salary and to remove his complaint against the club's decision not to pay a renewal bonus he feels he was due before leaving for Paris.
3.- No TO Real Madrid
Since March, when Madrid were left without any trophies, Florentino Perez has wanted Neymar, who he has always seen as the natural heir to Cristiano Ronaldo. There's been almost six months of pressure, despite Madrid leaking that they had no interest in the Brazil star. Despite having PSG on side, Perez never managed to convince Neymar, who he offered the same salary as he gets in France. Neymar never said 'yes' to Madrid, not even at the last moment, when Barça communicated that they would not table another offer.
4.- DivorcE PSG
There's no chance of Neymar making peace with the PSG owners, who have impeded his Barça return, even when the Catalan club met all of their stipulations. The relationship is irreconcilable. Neymar is only thinking of leaving as soon as possible. .
5.- Ney's €20 million
The €20m that Neymar offered from his own pocket to take the fee up to €150m (plus Rakitic and Todibo on permanent deals and Dembele on loan) showed how keen he was for the deal to go through. The 'feeling' between Neymar and Barcelona, something PSG have never managed with the player, has not gone down well in Qatar.