One man's incredible plan to meet Lionel Messi.... which cost him his job
Martín Galli landed a job at Camp Nou and became a 'detective'
He eventually managed to meet his idol, Barcelona's No.10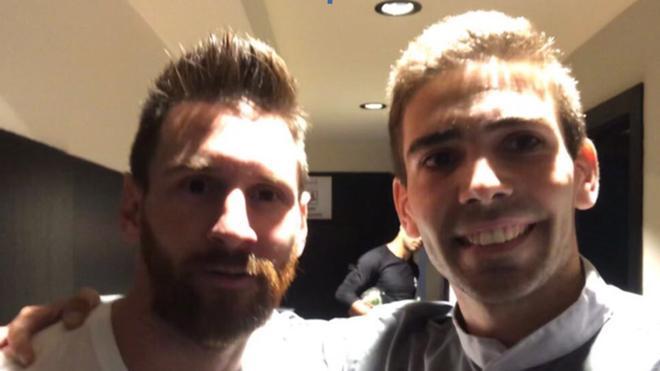 What is meeting Lionel Messi worth? Is it worth leaving your life behind for? The answer, if you ask Martin Galli, he would say yes. The 27-year-old from Mar del Plata (Argentina) went to extreme lengths to meet the Barcelona star.
Last July, Martin moved to Barcelona, where everything begins. After some other temporary work, luck allied with the Argentine and presented him with the chance to work at Camp Nou as a waiter. "The first day I went to the stadium, I jumped through security saying I had an interview, which was true. But then I realised that the system wasn't very rigorous and that being inside I could find blind points to meet Leo," Martin says.
Destiny meant he was working in the "Avantllotja d'Honor", when the players' families, directors and other VIPs mingled. It would be there that Martin became a detective, studying eveything which could help him meet Messi. What gate did the No.10 enter? Who was he with? How long before each game? All these questions needed to be answered and nothing left to chance.
The first approach was a disaster. In front of the Barça dressing room, Martin dropped a tray which he was carrying, breaking a number of glasses. Things could only get better. As the days passed, he grew in confidence and before the Eibar game, he finally got close to Messi. "I froze. He existed! Messi was real," he remembers of his first glimpse of the Barça forward.
Before Messi's exhibition against Ecuador, which took Argentina to the World Cup, Martin wrote a letter to give to Leo in the game against Las Palmas. However, with that game played behind closed doors, the plan did not get put into action.
It was the Champions League game against Olympiakos when things had to take a step forward. "It was then or never," Martin confesses. And it was then. After Rakitic, Jordi Alba, Iniesta and other players had passed, Martin waited for Messi. In fact, he thought he may have missed him, but the club's cameras were still there so he knew there were more players to arrive.
A few second later, Messi appeared. Martin made straight for him, dodging everyone before reaching Leo and asking for a hug. "He said yes and I was so excited," he remembers. As Leo was leaving, Martin quickly reacted and asked for a photograph, to which he was told yes and promptly took a selfie. "Thanks, you're the best in the world. We're going to be champions of the world in Russia," Martin said as Messi left.
Shortly after, and as the happiest man in the world, Martin returned to work and said to his manager: "Take the clothes, I'm done now." Knowing that would mean the end of his job, the Argentine man knew that his time working at Camp Nou was over. Martin Galli had what he wanted: he had met Lionel Messi and had the photograph to prove it. Everything else will work itself out...