Messi's message for those doubting commitment: I'm only capable of playing to win
"My commitment to the shirt and the badge is 100 percent, it is still intact"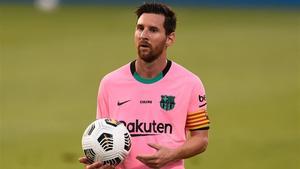 The departure of his friend Luis Suarez to Atletico Madrid didn't go down well with Lionel Messi, at least not the way it happened, with the club backing down on a promise he could go for free when they realised he was joining a direct rival. "I just said what I felt in what was a difficult moment for me," Messi has told SPORT.
Messi's reaction, posted on Instagram, drew criticism. Some thought it was excessive for him to go in on the board and president Josep Maria Bartomeu once again. Bartomeu has never responded to Messi's accusations in a bid to calm the crisis. Now, Messi has taken a step back: "I understand people may have thought I should have shut up or let it go, as I did on many other occasions, but a lot of things hurt me in the last few weeks and it was my way of expressing that."
After a first trophy-less season since 2008, Messi, after the loss to Bayern Munich in Lisbon, felt it was time to change scenery. He sent the club a burofax informing them that he would be exercising a clause that allowed him to leave for free. However, when he realised a legal battle would be needed to try and use the clause, he decided to stay, saying he didn't want to fight the club he loved.
A WINNER
Messi feels that the end of last season generated a level of frustration that he couldn't hold back. Losing the league when Barça were top and being humiliated in Europe.
"Those that know me know I'm not capable of playing any other way than to win and to give everything on the pitch," he says now. "It's been that way throughout my whole career and won't change now. My commitment to the shirt and the badge is 100 percent, it is still intact."
He also took advantage of his chat with SPORT to send a message to the club's supporters: "Finally, "I wanted to send a message to all the socios and fans that follow us. If at any moment, any of them were annoyed by something that I said or did, let there be no doubts that anything I did was always with the club's best interests in mind."
To sum up, Messi wants to bring an end to the controversy and establish a solid base for Ronald Koeman and his team to work on this season, to allow them to keep growing and bring peace to the dressing room.