Messi vs. Atletico: Leo's netted 32 goals against his second favourite 'victim'
Barça will need Messi in top form when they host Atletico Madrid on Saturday
Atletico Madrid are one of the sides Lionel Messi has faced the most in his career. Saturday's game at Camp Nou will be his 43rd match against them, the same as against Sevilla. Real Madrid, 45 times, are the only team he has played against more.
It's a huge game. A Barça win will momentarily take them top (Real Madrid can go ahead of them if they beat Sevilla on Sunday). Barça also have some unfinished business with Atletico. They haven't beaten them in three games and in the last meeting a defensive mistake saw them lose 1-0 in La Liga last November.
Equally, Barça and Messi also want to make amends for the game they played against Atletico on May 17, 2014. It was the final game of the season and a 1-1 draw earned Atletico the title. Barça, coached by Gerard Martino, would have won the league themselves with a win. In addition, the first La Liga game Messi lost at Camp Nou was against the Rojiblancos, 1-3 on Feb. 5, 2006.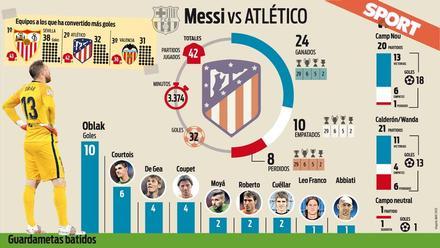 Messi has reached the final phase of the season in good form and determined to help Barça win a league title that looked impossible after four defeats in 10 games at the start of the season. A brilliant reaction has allowed them to dream. Everything depends on beating Atletico, winning their final three games after that, and hoping Madrid drop points. Barça and Madrid are level on points but Los Blancos boast a better head-to-head record.
Atletico are Messi's second favourite 'victim.' He has scored 32 goals against them in 42 games, an average of 0.76 per game. Only Sevilla (38) have conceded more goals to Messi. Valencia (31) complete the list of teams that have conceded 30 or more Lionel Messi goals.
Messi's best run against Atletico was seven wins in a row, between January 2015 and April 2016 (four in the league, two in the cup and one in the Champions League), during which he scored five goals. In contrast, the worst was between August 2013 and May 2014: six games without a win (five draws and a loss) and no goals in that time.
Messi first scored against Atletico on May 20, 2007, and since then has scored 32 goals against them, including three free-kicks and two penalties.
NEW FC BARCELONA PODCAST IN ENGLISH