Messi to Paulinho: "I'll see you in Barcelona"
The Barcelona star talked to Paulinho after the friendly on 9 June
He welcomed him to Barça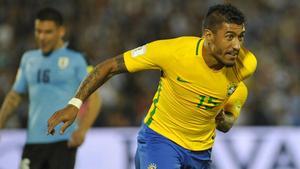 In his first game as Argentina manager, Jorge Sampaoli ended Tite's unbeaten run with Brazil as Argentina won 1-0 at the Melbourne Cricket Ground. It was Friday 9 June and Leo Messi's last game of 2016/17.
The goal from the Sevilla player Gaby Mercado has given Sampaoli's team an injection of belief before the final qualifiers for Russia 2018, when they have no margin for error. It didn't matter that Brazil had played without six regulars (Alisson, Dani Alves, Marquinhos, Marcelo, Casemiro and Neymar Jr.), beating Brazil is always a boost, particularly for a time trying to cultivate a new Messi-Dybala partnership.
At the end of the match, the players were going through the usual routine of handshakes and shirt swapping, when Messi let slip "I'll see you in Barcelona" to Paulinho. The Brazilian was speechless. He thanked him for the compliment and asked himself how Messi knew of Barça's interest.
At the start of June, the Guangzhou midfielder had only been linked with Barcelona in some Brazilian reports. And it wasn't until the end of the month that a deal with the player was agreed, as SPORT exclusively reported.
On the day of the Argentina – Brazil friendly, Paulinho knew that Barça were interested but didn't know how serious the interest was. Two months later, the player has signed for Barça and will share a dressing room with Messi from Friday under the management of Ernesto Valverde, who approved the signing of a player Barça had been monitoring for a while.