Manchester United's offer for Jadon Sancho complicates Barça's plans
The English winger is well liked at the Camp Nou but United's €115m offer makes a deal extremely unlikely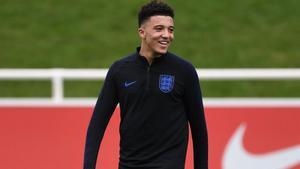 The world of football moves at an incredible pace and what felt impossible a few years ago is now considered normal. There's no greater example of that than the case of Jadon Sancho.
The young winger, currently at Borussia Dortmund, was marked down 41-1 to join FC Barcelona. It then quickly became 5-1 as interest from the Spanish side was leaked.
Did Barça really want to sign Sancho? One thing that is true, is the English man is well liked by those in power at FC Barcelona. He's an interesting prospect who could, without question, adapt to the style of football on show at the Camp Nou. The scouts have all been impressed by what they've seen.
However there's one major obstacle in Barça's way and that's the fact Manchester United have entered the race for the player's signature. €115m is said to be the offer on the table and that's something the Spanish side can't compete with. Frenkie De Jong was considered more of a priority and now their focus has switched to a central defender and left back.
To sum up, Jadon Sancho is someone Barça are interested in but it's practically impossible for a move to happen due to the money on offer elsewhere.