Lionel Messi is the only survivor from Barcelona's last trip to Cadiz
It's been 15 years since Barça visited the Ramón de Carranza, where Messi's played just once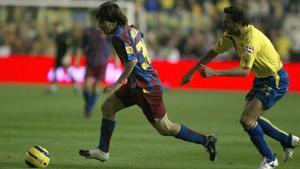 Leo Messi returns to the Ramón de Carranza on Saturday, a stadium where Barcelona have not played for almost 15 years and where the Argentine forward's only played once. Messi was one of the protagonists on Barça's last trip there in La Liga.
Frank Rijkaard was the Barcelona boss at the time and Messi was just starting out. He had debuted officially the season before and started in Cadiz on Dec. 17, 2005. He only managed to play 25 games that season due to an injury picked up on March 7, 2006 against Chelsea in the Champions League. It meant he didn't play in the final against Arsenal later that year.
Messi, now 33, will be the only one of the players that played at Cadiz in 2005 to be involved again this weekend. He was 18 at the time but was already a star in the making. Rijkaard's XI was: Víctor Valdés, Oleguer, Puyol, Márquez, Van Bronckhorst, Iniesta, Edmílson, Deco, Giuly, Eto'o and Messi.
ASSIST
Barça won the game 1-3 thanks to a Samuel Eto'o brace and a goal from Giuly. Messi set up Eto'o for his second goal, which made it 0-3 on the day.
No one remains from that Cadiz side, managed by the Uruguayan Víctor Espárrago.In fact, only three of the 28 players involved that day are still active. Aside from Messi, Andres Iniesta is playing Japan with Vissel Kobe and Fabián Estoyanoff now plays for Peñarol in Uruguay.
Curiously, though, another of the 28 players involved in that game will be at Saturday's game. The Swedish striker Henrik Larsson played for Barça at the time and is now part of Ronald Koeman's backroom staff.