Koeman: "A team like Barcelona cannot concede a goal like that"
The Dutch coach spoke to the press after Saturday's defeat to Atletico Madrid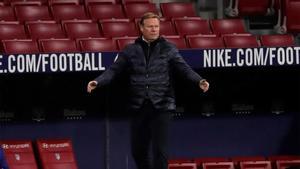 Ronald Koeman spoke to the media on Saturday after Barcelona suffered their third defeat of the La Liga season, losing 1-0 at Atletico Madrid.
Barça have just 11 points from their first eight matches in the league this season having also drawn two games. They've won just three times.
"Like any coach, I am responsible. We know we have to improve results and grow in confidence. We are working hard, we have to improve things in defence and attack," Koeman said.
"I try to put out the best team we have available. The players have done everything to get a result and we have to continue in that way. I am not worried about the league, although we know we need to win games."
Yannick Carrasco scored the only goal of the game at the Wanda Metropolitano but it came after mistakes from Gerard Pique and Marc ter Stegen in first-half stoppage time.
"A team like Barcelona cannot concede a goal in the way we have done," Koeman added. "We played well in the first half. We dominated without creating many chances against a team that defends well. If you commit errors, as we have done, it's even harder to win the game."
Finally, Koeman said: "I am happy with the players' desire. I can't criticise that. We didn't create many chances but we tried. The players are working well, we want better results and we know we need to win games."