Jean-Clair Todibo's Benfica nightmare could be useful for Koeman
He has still not debuted in Portugal and could return to Barcelona in January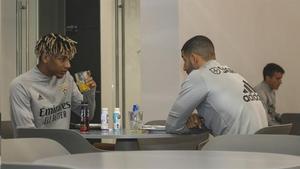 Jorge Mendes did Barcelona a favour on the final day of the transfer market, placing Jean-Clair Todibo at Benfica to help them reduce their wage bill. There was an 18 million euro offer from Fulham but the defender wasn't keen on the Premier League club so ended up on loan in Portugal.
Mendes, the superagent, saved the situation but things have not worked out. Coach Jorge Jesus has not handed Todibo a single minute of football. Partly because of an Achille tendon problem that hasn't allowed him to reach peak fitness. For that reason, the Portugues club can't wait any longer and, according to O Jogo, are close to signing Santos defender Lucas Verissimo.
THE CLAUSE
Apparently, there is a clause in Todibo's contract that allows the Lisbon side to return him to Barça in January, when it will be two years since Barça first signed him from Toulouse.
What would be bad news for Barça -- as they won't get the 20 million euro sale option -- could be some light relief for Koeman, who has lost Pique for the season and is struggling with injuries in the middle of defence.
We don't know if Todibo will be to Koeman's fancy. We don't know if Eric Garcia will sign from Manchester City in January. But it could be another option if Todibo can get fit.