Inter's Lautaro Martínez prioritises summer transfer to Barcelona
The club want the Argentine but coronavirus is complicating the market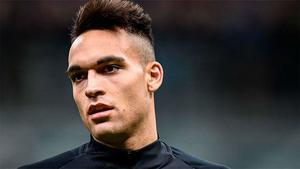 Barcelona want to make a big signing this summer and Inter's Lautaro Martinez has become their top target because he is attainable. The coronavirus crisis has complicated things, but the club are working on a deal.
After months of work, Barça have managed to ensure that the forward prioritises their offer and now they need to negotiate with Inter. Martinez wants to come to Camp Nou.
Contact with the striker's people started a year ago. Barça have had things under control since last summer but it wasn't until Dec. 2019 that they began to move forward with talks. It's not been easy, but there is now hope after ups and downs.
After signing Martin Braithwaite in February, Barça held a meeting to plan for the summer. In that meeting, a move for Martinez was approved by president Josep Maria Bartomeu and talks intensified.
Barça have made it clear he will come in as a starter. He initially had doubts because of Luis Suarez but it's likely that next season the club play with two frontmen.
With the necessary guarantees, Martinez showed his desire to sign. He's always wanted to come to Spain and to play alongside Lionel Messi. They have a good relationship with the Argentina national team.
All that remains now is to strike a friendly agreement with Inter. The coronavirus panorama makes it difficult to predict how that will play out, but Barça are optimistic.