How Barcelona plan to cut €200 million in spending to sign Lionel Messi
The Catalan club have presented their Viability Plan to LaLiga and are awaiting to hear back
The Viability Plan that FC Barcelona have presented to Spain's Professional Football League (LFP) to be able to undertake the signing of Lionel Messi, as well as the rest of the operations that will allow the construction of a competitive squad for the next few seasons, inexorably involves reducing the club's expenses by a minimum of 200 million euros.
Undoubtedly, a colossal task, even more so if we take into account that time is pressing.
The five points
Barcelona have divided this roadmap into five obligatory 'provisions': reducing the salaries of the first professional football team, reducing the cost of the professional sections as well as youth football, reducing the operational costs of the club, also the non-sporting payrolls and, finally, activating new income.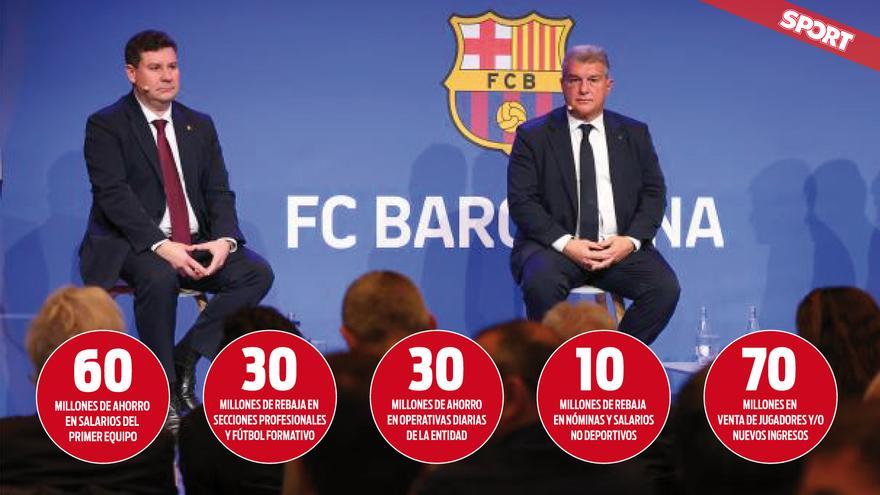 The club want to reduce the salaries of the first team by between 50 and 60 million and this is where the entire operational structure that Xavi Hernández has at his disposal comes in. The professional sections (women's football, roller hockey, basketball, handball and futsal) will also have to tighten their belts and this will also apply to all the youth football, i.e. La Masia. The latter savings are estimated at 30 million euros.
The recent announcement of the closure of Barça TV is precisely due to the obligation to cut another 30 million euros from the club's operations. Pulling down the shutter on the club's official television station will mean savings of around 12 million.
Two-year plan
The fourth item already affects the whole club, because it is a question of saving 10 million euros in non-sporting salaries. All FC Barcelona departments, in fact, are already being affected by this 'war economy'.
However, the most important item of all is that of new income. FC Barcelona are looking for, and need, a minimum of 70 million euros, which can come from different sources: new sponsorships... or the sale of players. The idea is to sell players who can leave a large net profit. In other words, players who have already been amortised, such as Ansu Fati (youth graduate) or Franck Kessié (who arrived for free).
The Viability Plan that Barcelona presented to LaLiga is for two seasons, 2023-2024 and 2024-2025. What they are also seeking is to improve their relationship with the Spanish football association, to get closer to Javier Tebas, to iron out differences, and that would involve withdrawing the current lawsuits over the CVC cases and the registration of Gavi.
Barça's main objective is to have sufficient Fair Play and to move from the current 40% rule to 1/1. All of this, added together, would also allow the registration of the new federative contracts of Gavi, Araujo, Sergi Roberto and Balde, which are still pending.