Griezmann: I still don't understand Messi, Suarez and Dembele's movements
The French forward is still adapting to his new surroundings in Barcelona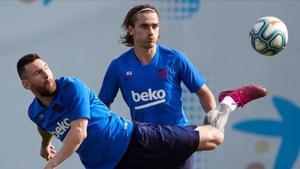 Antoine Griezmann has spoken to Radio Montecarlo and admitted that he is still adapting to life at Barcelona following his summer move from Atletico Madrid.
The France forward revealed he's still not completely sure what his attacking teammates do at Camp Nou and how best to link up with them.
"I still don't understand Messi, Suarez and Dembele's movements," he commented. "Sometimes it's tough. You don't have have the confidence with the ball and that leads to mistakes when you shoot or play a pass."
In another interview with Kicker, Griezmann also spoke about his first few months at Camp Nou: "I love the Barça style, which is totally in line with my vision of football. I don't feel the pressure. If we play with enthusiasm, we will reach our objectives and win trophies this season."
Griezmann asked for some patience as his adaption continued: "I arrived in the summer, the season is long and I have the necessary to time to refine my automatisms with my teammates and better dominate the elements of Barça's philosophy.
"When I arrived, I was well received by the whole dressing room. Every day I work hard to perfect my game, to be even better and to find my place with the objective of becoming a really important part of the team. Evolving alongside such great players is a genuine pleasure and inspires me."