Fabio Capello: Barcelona don't know how to defend
The coach spoke about the upcoming Champions League clash between Barcelona and Juventus
He added that "Lionel Messi is the Pavarotti of football"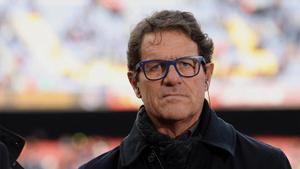 Italian coach Fabio Capello spoke on Monday on RAI about various topics, including the clash between Juventus and Barcelona in Turin, on April 11 at the Juventus Stadium.
Capello, as a former Real Madrid and Juventus man frequently attacks Barcelona in his comments. This time he claims "Barcelona don't know how to defend, the difference between them and Juve". He thinks that the Turin side "can score some goals, but not relax".
The coach added: "I think it will be an even game. I didn't like Juventus yesterday, against Napoli, they were too weak, they had too much difficulty when it came to plying the ball. Napoli pressed well. If Barcelona do that, Juventus will have problems."
One player Capello does like is Lionel Messi. "Let's not joke, he's the Pavarotti of football. They are players that entertain us, that invent things at the last minute and leave you with your mouth open. He's not the Messi of before, who ran more, but his quality and class is so high that he still entertains us."