SPORT EXCLUSIVE
Exclusive: The secret clause in Ansu Fati's Barcelona contract
Barça have an option to extend his deal by two more years, but it's not that simple
On Dec. 4, 2019, Barcelona announced Ansu Fati had signed a contract renewal until 2022 with the option for two more years. The clause temporarily went up to 170 million euros, later to increase to 400 million when he was officially promoted to the first team.
As for the two optional years, Barça didn't give any more details. But SPORT can confirm the exact content of the clause, which gives Barça peace of mind as they work on extending Ansu's contract before this season ends.
In any case, it should be made clear that Barça's intention is to reach a friendly agreement with the forward's agent, Jorge Mendes, which satisfies all parties. The club feel Ansu is key to the club's future, which is why he has inherited Lionel Messi's No.10 shirt.
Talks are underway and going well. Barça will bet big on Ansu, even though there's uncertainty after four operations on a knee injury in the last year.
The plan is to reach an agreement, then, with Mendes, but Barça are calm because there is also the clause in the current deal, which SPORT have had access to.
The contract reflects that "Barcelona will have the right to unilaterally prolong the contract for two more seasons, until June 2023, subject to notifying the player of the decision no later than June 15, 2022."
It also says that Barcelona can "pay the player the amount of 55,500 euros for the recognition of this unilateral right to [the club], no later than Oct. 31, 2020, regardless of whether the extension materialises or not."
Barça have already done that part, paying 55,500 euros to maintain the option to extend the deal unilaterally. The club now have time to reach a new agreement with the player before June 15. However, the expectation is that things will not drag on that long. Ansu is considered an important player and the announcement will be a boost for the collective morale at Camp Nou.
Rodrigo Messi's role
The negotiation for Ansu's current deal was the work of his previous agent, Rodrigo Messi. Leo's brother gave Barça priority on the player when there were much bigger offers to leave. It was during the period when Ansu first broke out and Rodrigo advised the player, at 17, that continuing at Barça was best for his development.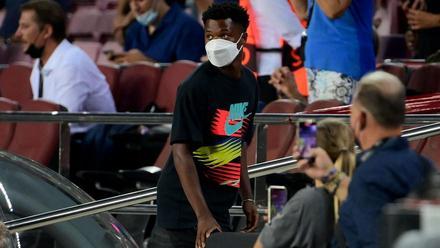 The club hope an agreement can be reached without having to use the clause. That's the main objective, but also to avoid going to court. Jorge Mendes' interpretation of FIFA's rules is that players under the age of 18 cannot sign a deal longer than three years, not even with clauses that activate further years once the player's 18. However, Barça would argue that Spanish law authorises this type of contract.
Barça hope their legal reading of the situation will not be needed.