Exclusive Jordi Alba interview: The double? We're not giving up on anything
SPORT EXCLUSIVE
The Barcelona defender sat down with SPORT to discuss his and his team's good form
"I try to better myself every year," explains Jordi Alba to SPORT and in faith that he achieves it; even though he sees retirement a long way off, given his form, he admits that when it arrives "I would like to be at Barça, because it's the club I carry in my heart."
This is SPORT's exclusive interview with the Barcelona left-back:
The numbers say it all. For maturity and performance, do you consider this the ideal moment of your career?
Yes, it's true I have 11 assists and five goals, the numbers are very good, but without the help of my teammates, it would be impossible. I have matured a lot in recent years in all aspects of my game, every year I try to better myself and help the team however I can.
And look what was said at the start of the season! Where people unfair with you? Do you think they forget quickly...
At the end of the day, you have to respect all comments, whether they're negative or positive. I focus on playing, I have earned the respect of my teammates and all the coaches I have had. We're at a high level and a lot is demanded. With the age I am now, I have seen it all. Maybe at first I didn't understand, but now, with the years that have passed, I accept all types of criticism.
You were captain against Real Sociedad in the Supercopa. How did you feel?
I was really excited, of course, after nine years at the club. It's an honour for a homegrown player, as I am, and the four captains we have are also homegrown and are really good.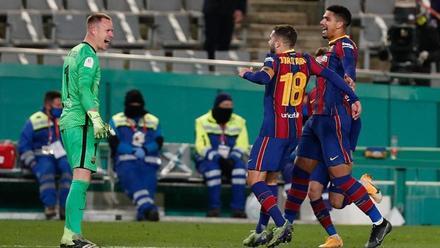 Would it be a dream to retire at Barça?
Uff, I still see retirement quite far away (smiles). I feel good, physically and mentally, but it's true that the day I retire, which I hope it a while away, I would like to be at Barça, the club I carry in my heart and have spent almost my whole life at.
An example of commitment is rushing back from injury to help the team in the Clasico? It's happened in the last two years...
It's true they said I would be out for longer, I was technically still two weeks ago, but I came back quicker and was happy to play another Clasico. They're important fixtures and any player wants to play in them, of course.
Does the back three benefit you? Pushing you up as a wing-back?
This system is good for my characteristics, but in any system Barça use, the premise is always to have the ball as much as possible and at the end of the day, the players, as is my case, like to attack, there's no doubt it benefits us. You also have to keep in mind that it always helps you when the team is playing better and we're going through a good moment right now.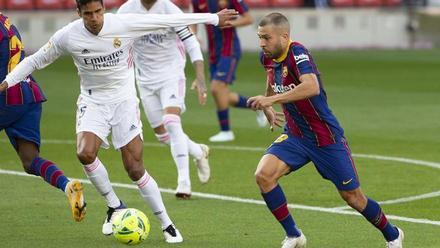 Exactly, great form, right? What a leap...
It's true. The team has grown a lot. We're in the final of the Copa after a great comeback and in La Liga we're there. We were a lot of points off the top and by playing well and winning games we've got a lot closer, but now come the demanding games, like on Sunday at Anoeta. We have to keep moving forward to fight for such an even league. The double? Obviously we're not giving up on anything.
The dressing room seems together as well.
Yes, the dressing room has always been united and I think the mix of veterans and young players that we have in the squad is really good, there's a really good dressing room. At the end of the day, you live with all the players and staff that form the day-to-day and it is essential to get on well. We're in a good moment of form, results are coming and the atmosphere is good. That's the most important thing to achieve your objectives.
Back with Spain, is the Euros an objective?
I was really happy to be back with the national team, me and those close to me. I am delighted to be called up again by the coach. I had been left out of a few squads and to return is a really nice feeling. And the Euros is an objective that all players have in mind. I have been lucky to experience various World Cups and Euros and it's a unique experience.
Among the youngsters, Pedri stands out, who's also with Spain now...
He's a kid that perfectly understands how Barça play. He is an incredible, different player. He's fitted into the team really well, is humble and knows how to listen. I think he deserves the call up. He's still really young (18) and there's no need to get ahead of ourselves, but ht will give us a lot of joy.
Finances are tight at the moment but there's still talk of Haaland and Mbappe... What do you think?
They're young players who are coming on strong and are at a great level. They're great players, they're the present already.... but I don't decide.
NEW FC BARCELONA PODCAST IN ENGLISH