Excl. Mingueza interview: I can't spend every day thinking that it's a dream...
SPORT EXCLUSIVE
The Barcelona defender has spoken to SPORT ahead of Saturday's Copa del Rey final
Barcelona defender Oscar Mingueza sat down with SPORT ahead of Saturday's Copa del Rey final against Athletic Club.
This could be your first title with Barça...
I'm really excited. It's the second time fighting for a trophy after the Supercopa. I hope it happens this time and I can win my first trophy with Barça.
Do you feel like there's a rivalry with Athletic after the games this season?
There could be because of the big games we've played against them. Something similar happened with Real Sociedad. There's a rivalry and there good games to play and win.
Did the Athletic celebrations hurt after the Supercopa? Especially the trumpet?
No, let them enjoy the trophy. We will try to win this one.
This batch of academy graduates with you, Ilaix, Riqui... is there a bit more competitiveness than with others? In the Clasico that was the impression.
They're the values we've been shown since we were little. The whole team has them. That desire to win, the attitude, the style of play... not just the youngsters.
On a personal level, it's been an incredible season...
A year ago, it was unthinkable. But now it's a reality. I can't spend every day thinking that it's a dream. I want to experience the moment, take advantage of it and work hard to be at my best.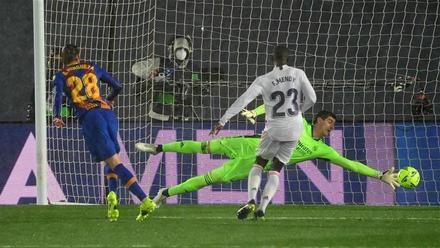 When you made your debut in Kyiv, with many players out, did you look at it as a unique opportunity to take your chance?
I'd been preparing physically and mentally for my chance for a long time. One day I was going to arrive somewhere, here at Barça or at another club... if it was at Barça, I didn't want to waste my chance. I had to be at my best and give everything.
Koeman saw you in Barça B-Nastic in the third division, the only game you played with the reserves. You played as a left-back. Was it a test?
I'd played in that position with the B team before. I feel more comfortable on the right, but I had played there with youth teams, too, and I can do it. I tried to give my best, but I wasn't thinking about who was watching. I played for myself and for the team.
They said you weren't aggressive enough. That's certainly not the case now...
Since I made the B team, I have had that label. I changed a year ago, I had improved, although it's difficult to shake off these labels. Now it's in the past and the present is another story.
How do you work on improving your aggressiveness?
Preparing myself mentally, working hard in training and I visited a psychologist to improve. I wasn't doing anything aggressive off the pitch, either (smiles)... I focused everything there. That was the key.
In football, with so much physical and technical preparation, does the mental side make the difference?
It's a little of everything. You have to be good physically and I have a fitness coach to complement (what I do with the club). It's not about being stronger, but recovering better, looking after yourself better and being 100 percent in every game. After that, coaches and analysts are also important. They help you improve. Keeping a clear head and everything in order is difficult, even though it doesn't seem it.
Is it also difficult to go from relative anonymity to fame in a day?
There are people it can affect but for me, it's not changed much. I still do the same things with my family, my partner, the same friends I have always had.
Speaking of intensity, in your first games, did you not feel that the referees didn't respect you enough and gave too many fouls?
Maybe for being new, they gave some fouls that were doubtful or that maybe they wouldn't give against others. I hope that's changed. The referees do the best they can.
Puyol stood out for defending well without fouling. Is he a good reference?
Geri (Pique) and Puyol have been my references because they're the centre-backs I have seen from the academy. They're the main ones, but I try to learn from the best, also players at Bayer, PSG, Madrid...
Do you like to analyse games you watch at home?
I try to watch games as a fan. I'd drive myself crazy if I spent all day analysing! But if I am watching a game on TV, I focus mostly on the central defenders. When it's one of my games, I will watch it more slowly with an analyst, correcting my mistakes. I look at what I have done well, too, but above all what the bad that needs correcting.
Are you very meticulous?
I'm quite lazy and I've struggled to get down with this sort of work, but the analysts help me a lot.
How did you receive the news that Barça were going to extend your deal for two more years?
It gave me confidence, motivation and happiness, although it's more an issue for my representatives. They have to speak. I am focused on football.
What role has Koeman played in your career?
He's been the coach that has shown confidence in me. As I said, I didn't start playing because he wanted to put me in whatever. It was an issue of necessity, but I have kept playing and I am very grateful for that consistency and confidence that he's shown in me. After those first few games of necessity, he's kept on backing when he's had more first-team players to choose from. It's an honour.
NEW FC BARCELONA PODCAST IN ENGLISH