Ex-Barça coach Ronald Koeman: Until the very last moment, I thought Messi would stay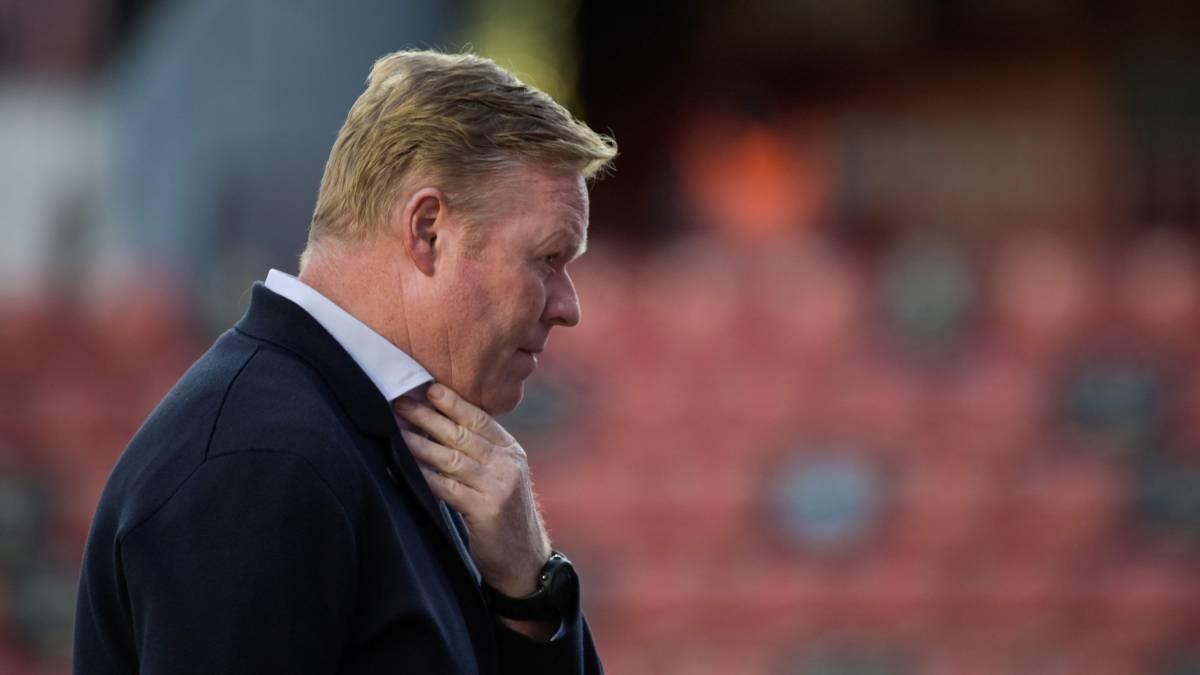 The returning Dutch coach opens up in an interview with MARCA about the World Cup, his departure from Barça and some of his players
Ronald Koeman will be the Netherlands coach once the World Cup in Qatar is over. In an interview with MARCA, the Dutch coach talks about the tournament, the favourites, his departure from Barça and some of his players: Pedri, Gavi, De Jong, Messi... and the president Laporta.
LEAVING BARÇA
"The experience was good. As a coach, you learn every day and I learned. It was a complicated period because of the situation the club was going through. I did my things and I was always honest in the decisions I made as a coach. Then another president came along and I wasn't one of his people... I don't want to criticise individuals again".
"I did things for the good of the club and nothing else. But with the change of president, the situation changed. Any coach needs the full backing of the board, without any doubts. In my case there were doubts and that's not good because it's impossible to work as a coach like that."
"There was no money. We signed De Jong at the last minute of the market. I had been in contact with him two weeks before in case there was a move and seeing that he wasn't playing much at Sevilla. First, the Messi thing happened to us, which was horrible for everyone, and then Griezmann. The only option was De Jong. But Luuk didn't come to play as a starter, he came to help if the team needed him or in some tight games when we needed a header. And I was criticised for that. During the time he was there he showed his quality and the public applauded him a lot for the points he won for Barça in the league".
MESSI'S DEPARTURE
"Until the very last moment, I thought Messi would stay. When I saw that in the end, he was leaving, I was as devastated as everyone else. You lose the best in the world and, the 35+ goals that were guaranteed each season... You are forced to go out and look for them, it was very difficult.
"Messi is always part of a team. You have to put him in his place and give him a tactical system in which he can shine. He's the best in the world, he's the captain and Argentina, like the Netherlands, have to improve to go far. But Leo is always capable of changing the game in an instant."
FRENKIE DE JONG
"He knows he has to improve. He is a key player for the national team and with the stronger games and stronger opponents we will see the Frenkie we know".
"Since last summer, Frenkie has been in control of the situation. He has always been calm, he has never said anything about whether Barcelona wanted to sell him or not. He has been focused on his football. Over time he has become a starter. He is a player for the present and the future for FC Barcelona. And you never have to sell your best players like Frenkie is. I'm sure he didn't like the situation he was in, but he didn't let that affect his game. He has always respected the club and has given his best".
PEDRI AND GAVI
"During my time at Barça, there were very promising youngsters. In the beginning, they surprised me too. Pedri was 17 at the time and Gavi was 16, and within a short space of time, they proved to be class players. And with time and the experience of playing at the highest level, they have become undisputed at Barça and in the national team. We have to recognise that they have had the backing of Luis Enrique, who has trusted them from the start. This has to be highlighted.
"You have to be brave, but in my case, it's not like that. If you have doubts, be it a young player or a veteran, don't risk it. I didn't have any doubts about Pedri when I started him in his first game against Real Madrid. And with others like Gavi, Balde or Nico it was the same".
"Pedri can go very far. He can have a career like Iniesta. If at 19 he is already playing at this level, soon he will be a more experienced player and one of the best midfielders in the world".
"Gavi is more aggressive, but this is a good quality in a player. I hope that with time he will continue to improve and play more games at a high level. Spain has a great future with such young players."
THE CURRENT BARÇA
"They are playing well. They have a strong team. The league is going to be decided between Barça and Madrid because there is no third team that can compete for it. They have a strong squad with a strong bench".
"A strong team needs stars who make a difference. Lewandowski does it because of his effectiveness; and professionalism that I perceive from the outside. These stars are important to win something big and the team has to keep improving to be at the Champions League level".
LUIS ENRIQUE AND LA ROJA
"Despite Thursday's defeat to Japan, they are still one of the favourites. I think France and Brazil are the favourites to win it all, they are very strong. Then there are other teams like Spain, England, the Netherlands or Argentina who can win it... But Spain are going to go far in this World Cup".
"Luis Enrique has maintained his commitment to young players despite the criticism. He has his own style of managing a team and he has done a great job so far".
"Everyone still needs a Messi to make a difference, but you can also make a difference by playing as a unit, which is what Spain are doing. Also, a bit like the Netherlands, because although they can play much better, they have been a solid team, conceding few goals. The defensive system is good. With team play, you can go a long way, but having players like Messi, Cristiano Ronaldo, Neymar and Mbappé is a determining factor".