STORY
De Jong shoulders the responsibility
The midfielder led Barça's second half resurgence in Saturday night's away draw at San Mamés
One of the only positives from Saturday night's match against Athletic Club was seeing Frenkie de Jong carrying the team on his shoulders and dominating the final stretch of the match. Barça fell short in too many areas: supporting runs arrived too late, they struggled to play out from the back and they allowed themselves to be smothered by Athletic's high press. The first 20-25 minutes were an onslaught. Even so, during this difficult spell, Koeman's side had some isolated chances of their own (Braithwaite must still be kicking himself).
It wasn't until well into the second half that Barça started to show signs of a response, reminding us, in short spells, of the side that had dominated Real Sociedad just one week before. And much of that was do do with Frenkie de Jong.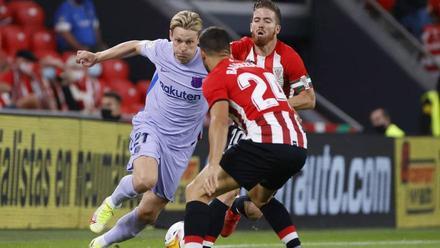 A GREAT SECOND HALF PERFORMANCE
Outclassed (like the whole team) for the first hour of the game, more concerned about putting out fires on the flanks and dealing with the constant overloads of the Basque side, the ex-Ajax midfielder started to turn the game on its head. With his characteristic elegance, he reminded us of the 'total footballer' who began to lose his shyness at the beginning of the year, breaking lines with his dribbles and making late runs into the box. He almost bagged the equaliser in the 75th minute with a delicious lobbed effort which bounced back off the crossbar. A few minutes later, Memphis had drawn Barça level with a left footed shot into the roof of the net after receiving a pass from his compatriot.
ONE OF THE CHOSEN ONES
It was magnificent to see Frenkie take the reins when the team was suffering. Without Messi, Barça are short of players who are willing to take the game by the scruff of the neck and shoulder responsibility for the team. Koeman knows that this responsibility needs to be assumed by Memphis, Griezmann and De Jong himself. Frenkie is already one of the fans favourites, and it seems like he is one of Ronald's chosen ones to carry the team through difficult moments.