COPE: Leo Messi and Marco Verratti have dinner together in Ibiza
A photographer explained on Wednesday that Pastore put the two players in touch
Verratti wants to come to Barça and Barça want Verratti but PSG don't want to sell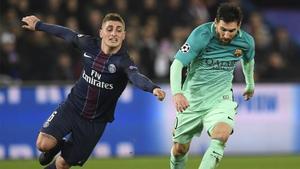 On Wednesday night, Javier Pastore brought together a sight many Barcelona fans want to see on the pitch.
Paris Saint-Germain's Argentine forward arranged for Barça's Lionel Messi and PSG's Marco Verratti to meet following the Italian expressing his desire to his club this weel -- through his agent -- to leave for Camp Nou.
The revelation was made by a photographer Sergio Garrido of the Ibiza Press on 'El Partidazo de COPE'.
Garrido expained that Messi and Verratti ate together on Wednesday night and that Pastore has set it up.
Both players are currently on holiday in Ibiza -- Verratti is staying in Formentera, as revealed by a video published on his Instagram account.
Photographer Garrido also explained that photographs of Cristiano Ronaldo sell for much more than those featuring Leo Messi.