Confidencial SPORT: All is not well inside Barça's dressing room
Following the crushing defeat to Liverpool, it also caused issues in the dressing room between some players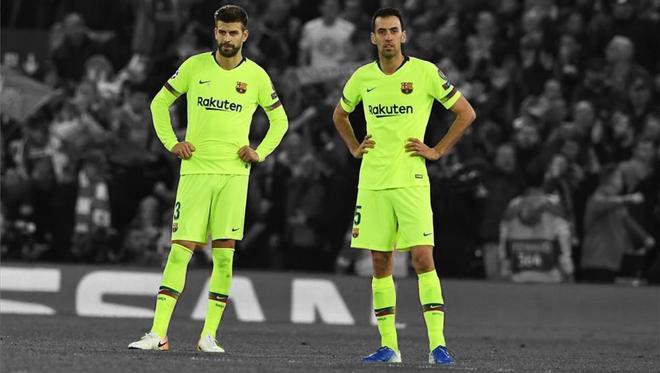 It wasn't just Leo Messi and Barça fans dreams which were crushed at Anfield but it also created a divide in the dressing room. This on top of the doubts surrounding Valverde's future, the recent transfer business and yet another painful Champions League exit. It's made for an uncomfortable feeling amongst the players.
A year ago the 3-0 defeat to Roma was accepted and dealt with immediately. The players took responsibility and used it as a moment to reflect on their status. The squad didn't have any doubts, not even for a split second, not of anyone or anything. The message was: "It's a lesson for us all to learn and take forward with us. In Europe, we can't relax even for a second."
In the aftermath of that Roma defeat no one felt the project had run into a dead end. The players accepted the defeat and aimed to come back even stronger. "We need to be more united than ever," was the general feeling amongst the group.
A year later and the same thing happened. But the reaction is completely different. On the pitch it appeared only Ter Stegen believed the side could respond after going 3-0 down. Messi and Suarez didn't look at anyone else. Valverde was motionless. At his side Klopp didn't stop barking orders at his team.
But the worse came - and continues even now - once the dust had settled. No one spoke in the dressing room. Messi was drug tested and barely looked at his teammates. There was no team inquest or even a short talk about how to confront this issue. In fact, a few players left the dressing room before the press had chance to set the cameras up in the mixed zone. A shower in record time.
This wasn't more clear than when Busquets had no idea Suarez had referred to the defending for the fourth goal as "something you'd expect to see at schoolboy level". Pique, often the man to speak in difficult moments, said nothing.
It's been 48 hours since the defeat and there hasn't been a single post on social media. Not one. It's almost as if the Roma defeat was viewed as an accident but Anfield only doubled down on those initial doubts. The dressing room isn't united and there are many doubts surrounding the squad. Cillessen has already said he wants to leave. Coutinho has endured a poor season, Rakitic's future is up in the air and Arthur has been relegated to being a bench player.
Alongside the individual issues, other members of the squad were unhappy too. Ter Stegen, Pique, Alba and Messi have been in fine form this season but they'll be watching the Champions League final at home again. That once strong bond of pure confidence has been weakened.
As we await decisions which will come from the very top of the club, it feels as if this group has had enough and changes need to be made ahead of next season. Place your bets as to what happens now.