Busquets, Pique and Alba... and a €200 million inherited mortgage
Barça would like to find a resolution to the players' current contracts
Barcelona's vice president for finance Eduard Romeu recognised it this week. Barça's biggest problem is the first team wage bill, which they are working to resolve.
At the moment, the cost of running the first team, including wages and amortisation of fees, is around 610 million euros. Barça want to knock 150 million off of that.
They want to do so to clean up their finances but also because it's what is demanded by LaLiga. The club know they can reach their target by 2024-25, in large part because the club captains will be out of contract.
Sergio Busquets, Jordi Alba and Gerard Pique will cost the club around 200 million euros across this season and the next one, keeping in mind that Busquets' deal expires in 2023 and Alba's and Pique's the following summer.
The departures of Alba and Pique, keeping in mind neither are playing a big role under Xavi this season, could be brought forward and a middle ground found in terms of the resolution of their contracts.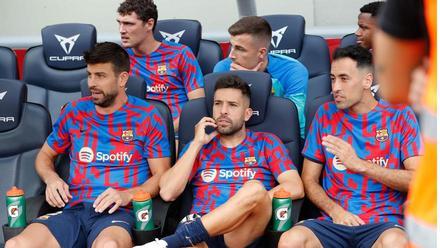 PIQUE & ALBA
The high salaries of the three players is a mortgage inherited from the previous board, due to both the cost of the players' salaries but also because of deferred payments during the pandemic.
Some of these players have accepted wage reductions in recent years to help the club, but the contracts are still above market value and are even more difficult to assume when Pique and Alba have lost their places in the team.
The club will always respect the contracts, but they would like to find another solution, a resolution perhaps, in the coming months to make this mortgage disappear.