Barcelona's Pedri ruled out of clásico on April 5, some hope for Dembele
Both players wanted to be fit to face Real Madrid in the Copa del Rey semifinal second leg
Coping as best he can (and doing well) with the absence of two key players in his team, Xavi is closely following the evolution of the injuries to Pedri and Ousmane Dembélé.
The Barcelona coach, in constant contact with the medical services and with the players themselves, has seen how in both cases the recoveries have gone awry. In the case of Pedri, it was even more difficult as he didn't feel good last week once he has re-started training with the group.
In the case of Ousmane, as we reported in SPORT, it was preferable not to force the issue and to wait for the international break so that he could be 100% fit. It was essential that he did not attend the call-up to the French national team.
There are still two weeks to go before the second leg of the Copa del Rey clásico -- 14 days in which the midfielder and the winger will work hard (as they have been doing) to continue progressing under the guidance of the physical trainers and physiotherapists. Not only at the Ciutat Esportiva, but also at home, on their own.
PEDRI SETBACK
Pedri was injured in the first leg of the Europa League tie against Manchester United. More than a month ago. A muscular pain in the right thigh that, in theory, was going to rule him out for three to four weeks.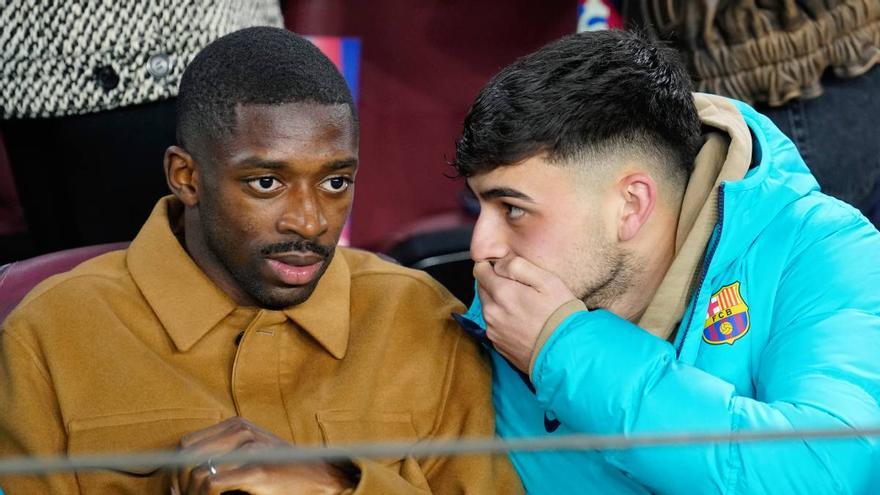 But, after not feeling 100% in last Friday's session, he was ruled out of the clash against Madrid on Sunday. He was dying to play, but it wasn't worth forcing himself. He will now also miss the clásico in the Copa next month.
OUSMANE'S AIM
Ousmane was injured on Jan. 29 at Montilivi. He was expected to be out for 4-5 weeks. Although his recent physical record was immaculate, the recent precedents with other players and the fact that he has such an explosive profile led to absolute caution. Thus, it was decided to wait until after the break for him to rest and not be called upon by France coach Didier Deschamps.
On the horizon, the first match after the internationals at Elche would be important for him to participate in but, above all, the objective is the Copa del Rey clásico. The staff are clear that nothing will be rushed, not even because it is a match ball against Madrid.
Both players had in their minds to be back for one of the biggest games of the season, but only one may make it.