Barcelona to return for Manchester City forward Sterling in January window
The England international was a target in the summer but a deal was never agreed
Not long ago he was untouchable at Manchester City, but Raheem Sterling's importance has dropped and his desire to leave has increased as a result.
This summer, Barcelona's director of football Mateu Alemany travelled to England to negotiate the signing of the former Liverpool forward.
Due to the club's financial situation, the idea was to include Raheem in a swap deal (with Griezmann, Dembele and Sergi Roberto initially on the table) or to discuss a loan.
However, nothing could be agreed in the end. But rather than move on, the interest in Sterling remains active and Barça want to re-open negotiations ahead of January.
Alemany still has Sterling in mind. It won't be easy, not least because Barça didn't have the money in the summer to do the deal.
RELEGATED
He's made just two starts in six games this season and hasn't completed 90 minutes once. He was once a key part in Pep Guardiola's side but since last season that's not been true.
In City's biggest games so far this season, away at Leicester in the league and at home to Leipzig in the Champions League (the games were played back to back), Sterling's been reduced to 27 minutes and 20 minutes respectively.
It's not a fitness issue because he played 90 minutes for England twice recently. Pep just prefers other options at the moment, such as Ferran Torres and Phil Foden, although the latter's been injured, and Jack Grealish, Riyad Mahrez and Gabriel Jesus.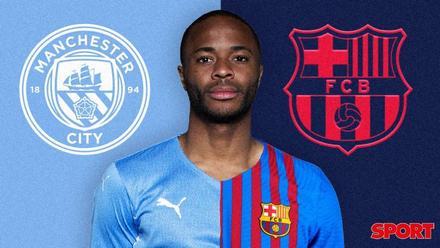 RAHEEM OK
Therefore, aged 26 and in his seventh season at City, Sterling is ready to look at his options and a move to Barcelona would be welcomed.
Guardiola would authorise his departure but it would have been much easier if City had managed to sign striker Harry Kane from Tottenham in the summer. We will see if City move for Kane again in the future.
With the departures of Messi and Griezmann this summer, among others, and the paycuts accepted by other players, Barça have some room to move in this January.