Barça's squad complete: What has the team won? And what's it lost?
SPORT analyse Barcelona's squad for the 2017/18 season
The pros and the cons are taken into account by Didac Peyret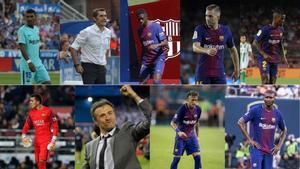 The transfer market closed in disappointment for Barcelona fans. Above all because of the failute to sign Philippe Coutinho and the sale of Neymar.
In total, Barça have signed Gerard Deulofeu, Nelson Semedo, Paulino and Ousmane Dembele, four players that, as well as Thomas Vermaelen, will add to the first team. There's also been a change on the bench: Ernesto Valverde replacing Luis Enrique.
As for departures, as well as Neymar, there's no Marlon (loaned to Nice to get minutes) and no Masip (released on a free, he signed for Valladolid).
Other players to leave are: Samper (Granada, loan), Douglas, (Benfica, loan), Munir (Alaves, loan) and Tello (Betis, €4 million).
UP
Possible game-changers off the bench:
With the signings of Deulofeu and Dembele, Barça have more possibilities to agitate a game. One will take Neymar's place (most likely the Frenchman) and the other will be an option on the bench to change a game.
Deulofeu could be one of the biggest winners of Barça's failed attempts to sign Coutinho and Angel Di Maria. Without them, he has a big opportunity ahead of him. In the first few games of the season he already looked more mature, more prepared to make sacrifices and less individualistic.
A more physical team:
Barça have taken a step forward in this nature with the signings of Paulinho and Semedo. The former is a player used to playing in a double pivote, a box-to-box midfielder. Players like Xavi and Busquets have commented on the difficulties of playing against him.
Semedo, meanwhile, is a quick full-back capable of a lot of miles. It's expected he will offer a lot in attack after joining from Benfica for €30 million.
A Barça with different formations:
Valverde has made it clear in recent games that he's looking at different systems. So far, he has tried 4-3-3, 3-5-2, 4-4-2 and 4-2-3-1.
The expected signing of COutinho invited thoughts of a 4-2-3-1, but without the Brazilian it's more likely we will see the trusted 4-3-3 most commonly used by Luis Enrique.
Valverde is trying to recover the high pressing and has modified slightly the positions of Busquets and Rakitic. Above all, the Croatian is playing slightly further away from the opposition area and in a more central position.
THE UNKNOWNS
Dembele's impact:
The most expensive signing in Barcelona's history is a player who's not yet exploded. The Blaugrana have invested on one of the players with the most potential in the world, but aged just 20 he's still developing.
The player himself recognised that he ruled out signing for Barça last summer becuase he's only been at the top level for six months. The year in Dortmund has been the best education possible, but it remains to be seen if that will translate to Camp Nou and if he will mix with Messi. Hunger and the ability to beat a man and wake up a game is expected from him. But, above all, entertainment, because he is pure talent.
Vermaelen's role:
"He has convinced Valverde, we've spoken a lot with him." Robert Fernandez explained why the Belgian will be the club's fourth central defender this season, despite the injury problems he's had.
It's no small role to play. With Pique-Umtiti as the first choice pairing and Mascherano as their back up, Vermaelen, in theory, is in the badckground. But at Barça the figure of the fourth centre-back can be very important when there are injuries and suspensions. Is Vermaelen ready for the demands?
Taking care of Iniesta:
Another season and it doesn't seem that Iniesta's role will change. If he's fit, he will start. That's what Valverde's team selections suggest.
For now, it doesn't look like he will have a secondary role, like Xavi did after the arrival of Rakitic. The potential signing of Coutinho threatened him importance to the team. Without the Brazilian, though, injuries permitting, Iniesta remains key. The question is if, at this stage of career, Barça should be depending on him so much.
Sergi Roberto:
Right-back or midfield? Starting or off the bench? The debate is endless on Sergi Robero. Valverde has given him minutes in various positions. Against Real Betis, he even played almost as a No.10, scoring. Against Alaves, he was back at right-back. What's the plan? How will he be used?
Arda Turan and Andre Gomes
The Turkish forward's case is complicated. Arda has seemed to have lost his manager's confidence. He shined as an advanced midfielder at Atletico and in Barça found his place on the left. It's still not been ruled out he could leave in the coming days, the Turkish transfer window still open.
Andre Gomes has not overly impressed Valverde in his first months as manager. The Portuguese struggled in the loss at the Bernabeu. His body language works against him. He has class but he's not often shown it.
DOWN
Lack of an idea
From Verratti to Paulinho. That's one way of simplifying Barça's summer, but it shows the flexible approach the club had on signings.
After Neymar's exit, there was a big dilemma: recover the midfield or renew the trident by replacing the Brazilian?
It seems they've gone for the second option. Dembele is the replacement for Neymar. In fact, he's a player with very similar qualities, although less goals. Players like Verratti and Seri, technical midfielders, were not signed, despite interest.
Dependence on Pique:
After several weeks in the job, Valverde gave a name: Iñigo Martinez. Interestingly, when all the talk was of midfielders and forwards, his request was for a centre-back. He wasn't convinced by Marlon, Vermaelen's injury history is no secret and Mascherano is a reconverted midfielder.
Therefore, Valverde asked for the Real Sociedad defender. Once again, then, Pique will be key to the defence. He will be helped, though, above all, by an Umtiti who is still growing.
Madrid win midfield battle:
Asensio, Isco, Modric, Kroos and Ceballos play for Madrid, although they all fit in perfectly with Barcelona's idea of playing.
Barça have lost the battle of midfielders since the exit of Xavi and the goodbye to players like Thiago and Cesc, who were seen as the eventual heirs to Xavi and Iniesta at one point.
Once again, the midifled will be the same as the one that played in the Berlin final in 2015: Rakitic, Busquets and Iniesta, joined this year by Paulinho, perhaps as back up.
Verratti was the signing they wanted, but PSG said no and then, one month later, took Neymar.
Stars in their 30s
The spine of the team are all getting on: Pique (30), Busquets (29), Iniesta ( 33), Messi (30) and Suarez (30). Yet they are still expected to carry the side and keep them in the hunt for three trophies.
Barça have fallen asleep in recent years and their succession planning has not been good. And when they have made a big signing -- in the case of Dembele -- it's been because they were obliged to.