Barca's record under Copa final referee Martinez Munuera
He was the ref that gave penalties against Lenglet to Madrid and Cadiz this season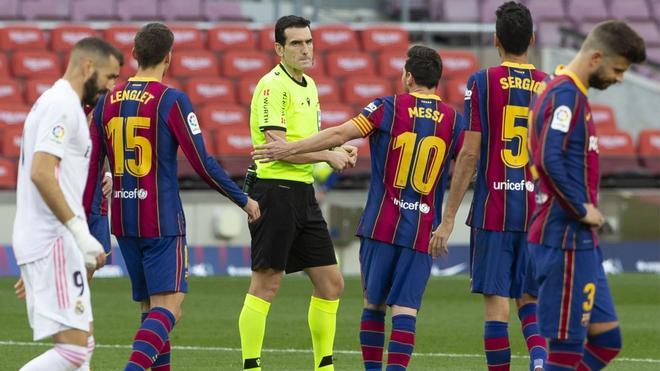 There's now a referee for the Copa del Rey final between Barcelona and Athletic Bilbao on Sunday. Juan Martinez Munuera will be taking charge of he game, the first time he's done so in his 26 games in the competition.
This will be the third Barcelona game that he has refereed this season and the Catalans have not won the other two.
The first was the Clasico at Camp Nou, a 3-1 defeat with that soft penalty awarded to Sergio Ramos. The other was the disastrous 1-1 draw at Cadiz - another penalty conceded by Lenglet, for a foul on Ruben Sobrino.
In the 23 games that he's refereed Barcelona for, the Catalans have 15 wins, four draws and four defeats, which gives them a 65 per cent win rate.
They have played three cup games with hims as referee and have a win, a draw and a defeat.
Barcelona beat Espanyol 4-1 in 2015-16. The next was a 1-1 draw against Celta Vigo in the first leg, progressing 5-0 at Camp Nou and going on to win the cup.
The last was a match between Barca and Athletic last season, with Inaki Williams's goal knocking Barcelona out of the tournament.
Since the 13-14 season, he's referred four games between these sides. The balance is equal. Two wins for Barca, 2-1 and 0-2 in 13-14 and 17-18, and two for Athletic, 1-0 and 1-0 in 13-14 and 19-20.
LATEST EPISODE of SIEMPRE POSITIVO, the best FC Barcelona podcast in English