Bakero reveals the money offered to Barça's youngsters by other clubs
The finances at that level continue to go through the roof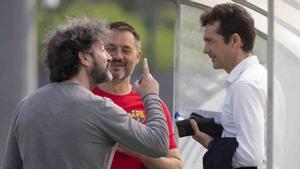 José Mari Bakero, the man in charge of Barcelona's academy, has spoken to RAC1 about the huge offers the club's young players receive from other clubs.
Barça have seen a number of talented teenagers leave the clubs this season. Above all, Bakero admitted, they are struggling with the 15 and16-year-olds.
"We have less problems renewing the players that are 17 or 18 than the younger kids," he explained. "When they're 17 or 18, we have a clear concept of what their level is and how far they can go.
"With the younger boys, there are a lot of expectations and some of these players have fantastic quality, but we always say the same, that in these teams there are always four or five with a lot of quality."
Bakero didn't stop there and added that "the problem we have is that in other countries there are no clauses and everyone is offering preseason with the first teams and higher salaries.
"The external economic pressure is brutal. We're talking about offers of up to €600,000. We're also seeing situations where bonuses of €1 million or even €2m are being offered to the player or their representative."