Bad news for Dembele: Barça winger's return taking longer than expected
The forward will not play until after the international break; no date has been fixed yet
Ousmane Dembélé is still recovering from the injury he sustained in the Girona game on Jan. 28 at Montilivi. The winger injured his thigh and, since then, has not played for the team. From the outset, both the medical services and the player himself opted not to set a deadline due to his previous history of muscular problems.
Almost two months after his injury, Dembélé is still on the sidelines at the Ciutat Esportiva training on his own. The watchword is zero risk and maximum prudence because the Frenchman is too important for Xavi and they are not going to lose their heads by bringing forward a return that could be counterproductive. And the fact is that the recovery times are not going at the expected pace and the player's feelings are not entirely positive.
The reason is that the injury has taken a little longer to heal, although it is not a relapse, but a slower process to overcome the injury than expected at first. That is why Dembélé is completely ruled out for the Clasico, as we have already explained, and he will not play for the French national team during the international break, either.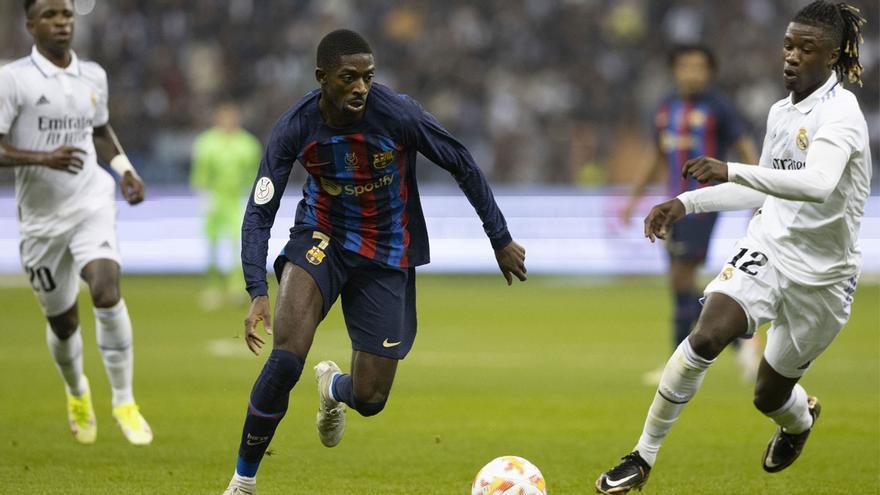 During the upcoming fortnight without club competitions, the forward's physical condition will continue to be assessed on a daily basis in order to determine more precisely his chances of returning to the team in the coming weeks. Barça do not even dare to predict that he will be fit for the Elche game on April 1, the Blaugrana's first match after the break. It will depend on how he feels.
The objective, in that sense, would be to have him for the second leg of the Copa del Rey semi-final against Real Madrid on Wednesday, April 5 at the Spotify Camp Nou. In any case, his return will only be a reality if he is 100 percent recovered and the risk is non-existent.