Aubameyang or Memphis: Xavi doesn't want to lose them both
Chelsea are pushing for Auba and Juventus want Memphis
Barcelona's financial situation means they still need to move players on to be able to register Jules Kounde, already signed, and to then pursue the arrivals of Marcos Alonso and Bernardo Silva.
The transfer of Frenkie de Jong is still the quickest way to make the numbers up. It's also the easiest option to accept for Xavi Hernandez, who would be left with Busquets, Pedri, Gavi, Kessie, Pjanic and Bernardo Silva to satisfy his needs in midfield.
However, for now, De Jong prefers to stay. Neither Manchester United nor Chelsea have convinced him to change his mind.
Barça have been forced to look at other options. The most advanced is Memphis Depay, who is closer to accepting an offer from Juventus. Barça are beginning to accept they won't get any money for Memphis, but they will save on his salary and be able to register Kounde.
Another name on the table is Pierre-Emerick Aubameyang. Chelsea are pushing for the striker and are negotiating with him and Barça. The English side will improve his wage, butso far they have no convinced Barça to accept an offer worth less than €20 million.
Xavi's position is clear: he is not keen to lose two forwards and would prefer to move on Memphis. Aubameyang played a key role in the second half of last season. His goals helped Barça finish second, but the arrival of Robert Lewandowski has pushed him out of the team. Xavi is trying to keep him in the mix by giving him minutes across the frontline.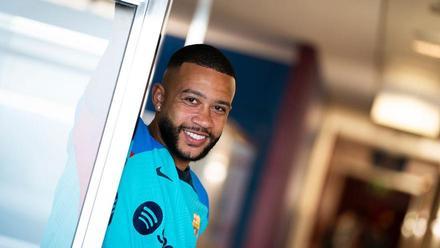 Per 'LaTdT' de Catalunya Ràdio, there is a third scenario: if De Jong doesn't leave, to sign Bernardo, Barça would have to lose Memphis and Aubameyang.
Xavi would be more willing to sanction De Jong's exit than Aubameyang's. The ex-Arsenal man is thinking about it. He is happy at Barça and ready to take on a different role to last season.