Arturo Vidal is demanding a €6m pay off from Barça to leave
According to the Italian press, Vidal wants the €6m left on his Barça deal before he joins Inter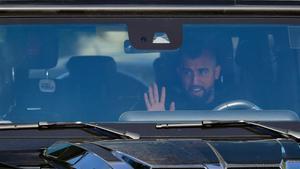 Six million euros is what separates Arturo Vidal from leaving Barça and being able to sign Inter Milan. According to 'Gazzetta dello Sport', Vidal wants the remaining months of his contract at the Camp Nou paid in full before he leaves. Despite this last minute hold up, Antonio Conte is confident the Chilean midfielder will soon arrive in Milan to finalise the move.
The Italian outlet confirms Vidal's agent has agreed terms on a deal with Inter. He'll sign a two-year contract with the option of a third, assuming he is released on a free transfer by Barça. Another meeting is expected to take place tomorrow in order to move forward the deal.
the difference
Vidal's departure is at an advanced stage but a complete agreement is still missing. The main sticking point is Barça want the midfielder to give up the remaining 10 months on his deal whereas the player wants to be paid up in full, which is around €6m.
In addition, they mention the amount of bonuses Vidal agree to in his contract with Barça, which actually ended up in court. That would be another €2.4m.
Antonio Conte expects Vidal to arrive in Milan next week in order to pass his COVID-19 test and undergo a medical.