France coach Deschamps bans jewellery after Kounde's mishap
The Barcelona player had to take this necklace off during the win over Poland
France coach Didier Deschamps has banned his players from wearing jewellery after Barcelona's Jules Kounde was caught wearing a necklace in the World Cup last 16 win over Poland at the weekend.
According to the IFAB rule book: "A player must not use equipment or wear anything that is dangerous. All items of jewellery (necklaces, rings, bracelets, earrings, leather bands, rubber bands, etc.) are forbidden and must be removed. Using tape to cover jewellery is not permitted."
In the 41st minute for France's 3-1 win, Kounde was clocked wearing a necklace by the match official and forced to take it off, which drew Deschamps' ire.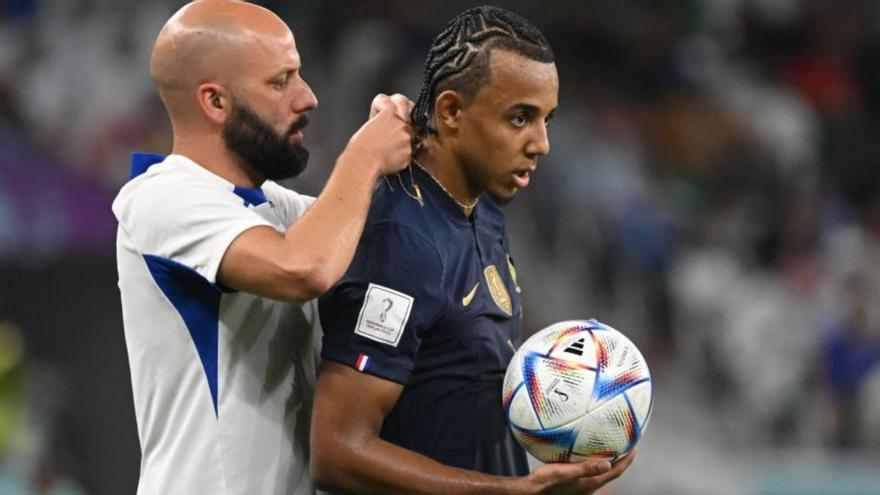 "He [Kounde] shouldn't have started the game with that on," Deschamps said. "I don't know what he has on the necklace, but I know he's a bit superstitious and he wears it in training too.
"I don't know what the necklace meant to him, but I told him he was very lucky that I didn't catch him in front of me at that moment.
"The referee told us that as soon as there was a stoppage in play, he had to take it off. If I had seen him wearing it in the dressing room, I'd have told him to take it off before he even went onto the pitch.
"You can't play football wearing sunglasses or a watch or ring. It's not allowed. I thought he'd taken it off, but he hadn't. It's our fault, our mistake, and it won't happen again."
Kounde has been playing at right-back for France at the World Cup and will be available for Saturday's quarter-final against England in Qatar.