A smile from Ansu Fati as Barça star makes World Cup debut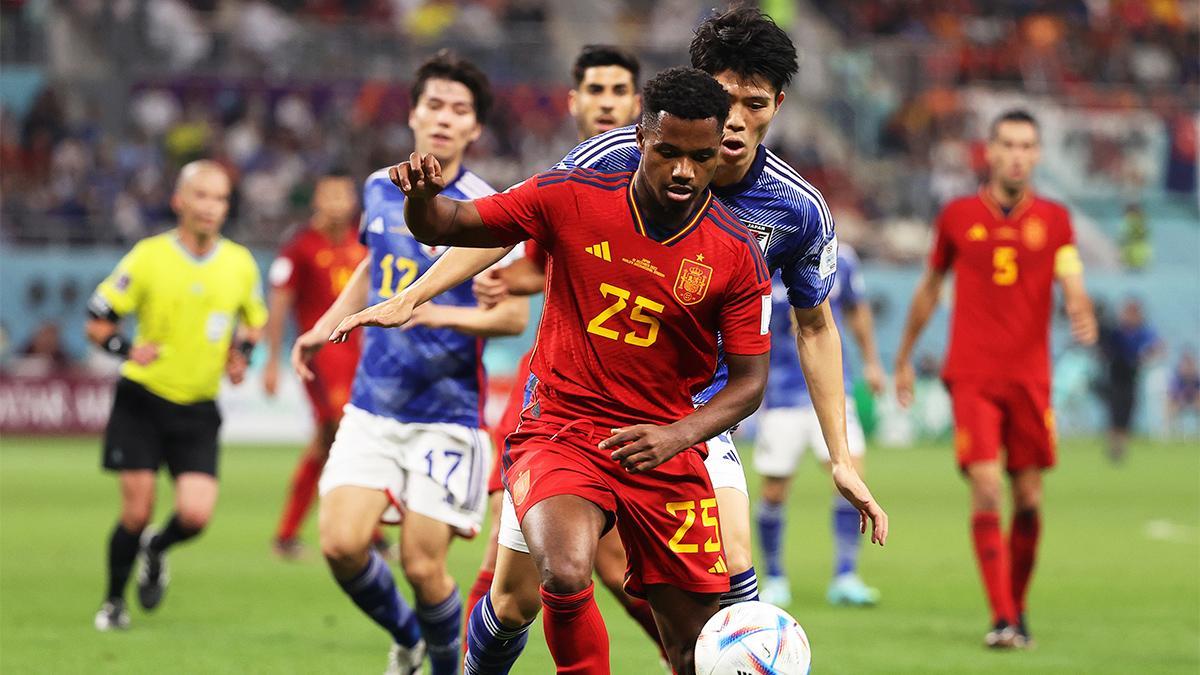 The forward came off the bench for his first Spain appearance at the tournament
"He was the last player on the list," Luis Enrique remarked bluntly when asked what role he reserved for Ansu Fati in the World Cup. The Barcelona forward, who had not even warmed up in the first two games against Costa Rica and Germany, seemed destined to play a supporting role at the World Cup.
Luis Enrique's words in the run-up to the match against Japan fueled doubts about Ansu, who had already been left out of the last squad before the tournament in September/October, because the coach had not seen him playing at the level he demands.
Backup to necessary
However, as soon as things became complicated for Spain in Doha, with Japan ahead on the scoreboard and Costa Rica and Germany playing a crazy game at the same time, Luis Enrique turned to Ansu.
He came onto the pitch in the 68th minute, replacing Gavi, to intensify Spain's attack from the left wing. He did not score, but he linked well with his teammates, sought the weaknesses of the disciplined Japanese defence and was very active.
Ansu ended up sharing the front line with Ferran Torres and Marco Asensio, with Dani Olmo just behind them, in the interior position: four attackers to try to knock down the Japanese wall and score an equalising goal, which did not arrive.
In the end, only the result of the match between Costa Rica and Germany saved Spain, who reached the last 16 as group runners-up on goal difference.
A smile amid the tension
The Barça forward was the exception in the mixed zone of the Khalifa stadium after the game. While he did not have to speak to the press -- only three players are obliged to do so -- he left the stadium with a relaxed and smiling gesture, in contrast to the seriousness that was reflected in the faces of his teammates.
The tension of having been eliminated for several minutes briefly in the second half only faded with the passing of the hours, but for Ansu, it was not a sad day: he played his first minutes at a World Cup, accompanied by his entire family in the stands (of the 26 cited by Luis Enrique, he is the one who has taken the most relatives to Qatar) and showed that he can be important and necessary for the national team.