NEWS
The truth about the media campaign against Barcelona midfielder Gavi
There is no problem with Gavi when with Spain despite some reports
Gavi has become an emblem of Barcelona in a very short time. He is an idol for the Culés, but also for the fans of the Spanish national team, especially the younger ones. The player was the centre of attention during the international break, especially at the training camp in Las Rozas and in Malaga, where he was in great demand.
At the gates of the hotel in Malaga, many teenagers crowded around to try to get close to Gavi. Without Pedri in the training camp, Gavi was the player the fans were longing for. His fighting spirit, enthusiasm and dedication on the pitch are captivating, as well as the empathy he has with fans close to his generation.
That made him one of those chosen by the Federation to sign autographs for the fans at the hotel. The player, however, was feeling a bit tired and asked if he could be relieved and would attend the next time. Olmo replaced him and, in spite of everything, Gavi ended up coming down to sign.
From this simple anecdote, a fuss has been kicked up in the capital, even questioning Gavi's behaviour with La Roja. Sources consulted by SPORT confirmed that there were no problems with coexistence with Gavi. Far from it. For example, a Madridista with a level head like Nacho described him as "a good lad."
Gavimania
Gavi was on the side of the fans and was already seen on the first day of training in Madrid, where he went to the stands of the Ciudad del Fútbol in Las Rozas to sign autographs and take photos. A 'Gavimania' was unleashed in the capital just after a very heated clásico with him in the limelight following a clash with Dani Ceballos.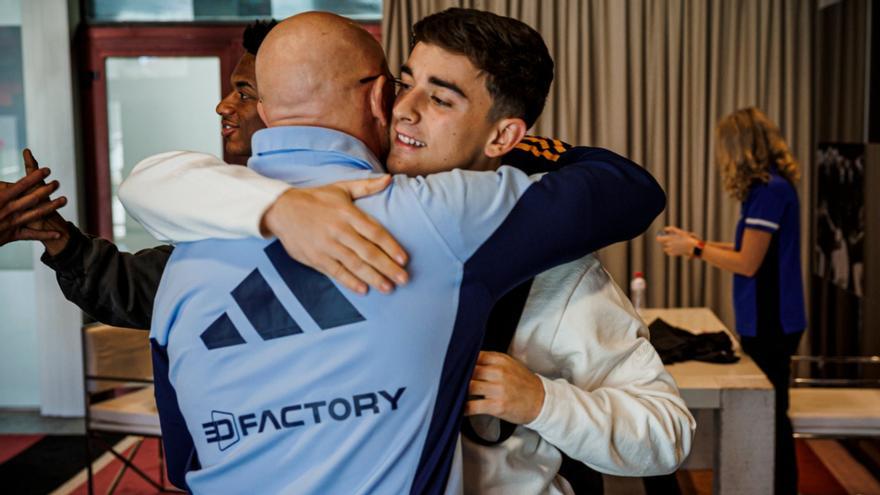 Coach Luis de la Fuente himself, who did not have Gavi in the U21s, welcomed him with a heartfelt hug and, as he explained in a press conference, gave him some advice such as to control his momentum sometimes "so as not to see a yellow card soon." A footballing comment that has also been used as an opportunity to make a point as if it were a reprimand from the coach when he concluded his assessment by saying "always give me a Gavi in my team."
In any case, the media pressure of the clasicos has taken its toll on the Barcelona player, who is being painted from some sectors close to Madrid as a conflictive player.
With La Roja, he is much closer to the youngsters, such as Balde, Nico Williams, Yéremi Pino and Bryan Gil, but that does not mean that he is not fully integrated into the group. His comradeship is beyond doubt.