Zinedine Zidane puts the brakes on Eden Hazard
Real Madrid's coach does not want to take risks with the Belgian wing wizard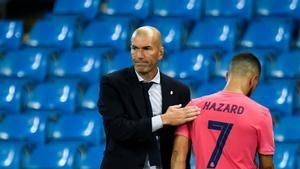 Eden Hazard is trying to get back into action as soon as possible. Zinedine Zidane is moving slowly though and does not want to take any risks with the Belgian. Hazard could be fit enough to play some part in the Clasico on October 24 at Camp Nou, but the coach may not see fit to use him by then.
Since he suffered a foot injury on Nov 26, against PSG, after a tough tackle from compatriot Thomas Meunier, Hazard has played only nine games. The Belgian is physically fragile and has suffered one problem after another. He's currently recovering from a quadriceps injury he suffered in training on September 30. The medics imagined this would keep him out for a month.
Hazard has gone 11 months without getting out of this injury slump and some are questioning his lack of commitment, returning from holidays out of shape and paying for it with more injuries.
This season he needs to take step forward to prove his 160m euro signing was not an utter disaster. He is working in the Valdebebas gym, unable to go out on the grass to train.
If his evolution is positive in the coming days, he will be brought to the Camp Nou and put on the bench. But Zidane does not want to force him in any way and is not even considering starting him. His moment will have to wait.