Zinedine Zidane pushing Florentino Perez for Paul Pogba
The French coach would love to bring the Man United man to the Santiago Bernabeu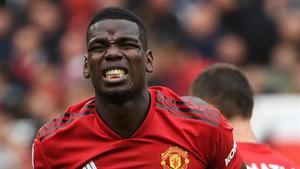 Florentino Perez has a problem, and it's no trivial thing. Until now he has done what he promised coach Zinedine Zidane when he returned to the club. He asked for Hazard and Perez brought him in. He asked for a forward and he brought him Jovic. He wanted a new left-back and Mendy arrived. Rodrygo and Militao will pad out the squad.
But Zidane wants more. He wants Paul Pogba. Zidane believes the Red Devil will be a fundamental part of his plans this season. However Man United want 170m for Pogba, while Madrid are willing to go up to 130m euros.
Zidane is putting pressure on to sign Pogba, but Perez is not sure and is interested in Christian Eriksen, Tanguy N'Dombele and Donny van de Beek, who would all cost much less. Eriksen around 80m, the other names 65m apiece.
It's an open war but the situation can be solved. Above all if Perez raises his bid for Pogba. Perez also doesn't want to pay Pogba's agent Mino Raiola a fat chunk. He got 22m when Pogba joined United from Juventus.
Pog's salary is another part of the battle. He gets 15m a season at Old Trafford and doesn't want to lower that number.