Zinedine Zidane: I won't resign, I have strength to continue
The French coach is not planning on quitting despite the club's troubles this season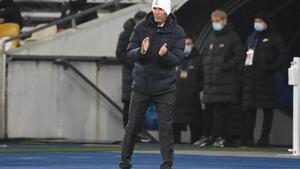 Real Madrid coach Zinedine Zidane is not going to throw in the towel. His team suffered another disappointing defeat against Shakhtar Donetsk leaving the team's hopes of staying in the competition on the line.
"I will not resign, I'm going to continue," said Zidane after the game in Kiev.
"In the first half we were very good and we deserved to score the first goal. Everything would have changed a lot if we had scored. After their first goal did us a lot of damage because we played well in the opponent's half. We had chances, including the woodwork, but in the end it was more complicated."
Madrid were also defeated by Alaves in La Liga at the weekend.
"We've had delicate moments and we will always have them, it's a bad run, that's the truth," said Zidane. "We prepared well but were not able to score goals. Now we have a game left and we need to win."
NEW FC BARCELONA PODCAST IN ENGLISH