Zidane's message to Jovic: You have to prove yourself at Real Madrid
The striker scored two goals after joining Frankfurt on loan last week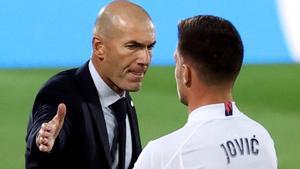 Real Madrid coach Zinedine Zidane gave a press conference on Tuesday ahead of the Copa del Rey game against Alcoyano. He spoke about that game and also sent a message to striker Luka Jovic, who scored two goals for Frankfurt at the weekend after rejoining the German side on loan.
On Jovic: "It's easy to say I am to blame. I always want my players to do well. They also said the same with Reguilon, that it was my fault. The players know what it is, it's always difficult at Madrid. The player has to show what they're worth, which is what Jovic has done by choosing to go and play. It was a good option to sign him. I am delighted with how he's doing, I hope he can do the same for Madrid. Playing away from Madrid is very different. He's 21, he has time to show that he's a player for the future. It's the same for everyone. What you have to do is prove yourself when you're here, but it's not the coach's fault, the player has to prove himself."
Possible exits? "Anything can happen until Jan. 31, look at Jovic... but I want my players here. They're here, we have a lot do here and I count on everyone, that won't change. We will see what happens."
Signing Alaba? "I will say it now because you will keep on asking: he's not our player. I am only interested in tomorrow's game. I am not going to get into this. Sorry, but what interests us is what we have here and the game this week, nothing else."