Zidane tells Florentino Perez he doesn't want any January signings
The Madrid boss says he's happy with the squad he's got
Los Blancos are fourth in La Liga, 16 points behind leaders Barça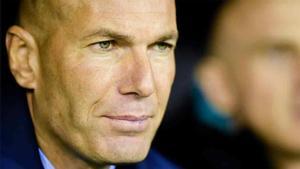 Real Madrid coach Zinedine Zidane has told president Florentino Perez that he does not need any new players in the January transfer window.
Zidane insisted that signings are not necessary, despite the fact Madrid are close to finalising a deal for Athletic Club goalkeeper Kepa.
The French coach, speaking to the press on Tuesday, defended his players to the death.
"I don't need anyone and that's it," he said. "If you want me to be clear, I don't want anyone for anything and that's that. We have a squad, which is my squad and we have players that, despite a difficult season, I will defend.
"I think that we have a long way to go and it will be at the end of the season when we can analyse things and see if we must make changes."
Zidane insisted that "I believe in my squad. I don't understand how anyone can think that I would do the opposite now to three months ago. I'm not going to change because of some bad results."
He continued: "What annoys me most is that people say I'm wrestling with the president of the club. People that think that don't know me. I'm one more here.
"I'm going to give 3,000 percent to my work. I believe and my players believe. I'm not going to throw in the towel because of four bad results. No one is above Real Madrid. I won't get into a confrontation with the fans, the club or the president, who's the one that put me here.
"I'm going to defend this squad until the death and I'm going to go to the very end, until they change me. Those are my values."