Sergio Ramos rallies his Madrid team-mates: We've come out of worse
The captain wants maximum effort from everyone over the next week or two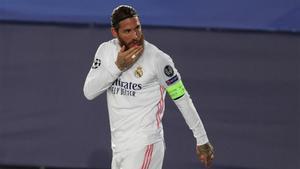 Conscious that Real Madrid's European campaign is at stake against Monchengladbach, and that Zinedine Zidane, the coach, is in a precarious position, skipper Sergio Ramos spoke to his team-mates on Thursday.
The Spaniard, per AS, asked for commitment and unity ahead of the clash with Sevilla this weekend, then Gladbach and finally Atletico Madrid.
Zidane was not present for the chat at which Ramos tried to raise the morale of his team-mates.
"We are a win away from going through in the Champions League, it's up to us and we have to give everything, this is Real Madrid, gentlemen," said Ramos. "Together we have come through worse."
Luka Modric was also important.
"We have to be united and win the next games, we can do it," added the Croatian midfield veteran.
LISTEN TO A NEW FC BARCELONA PODCAST IN ENGLISH