Reguilon: Tottenham have golf holes at the training ground for Bale
Spurs have gone out of their way to ensure the Welshman is happy back at the club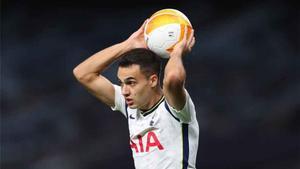 Former Real Madrid defender Sergio Reguilon spoke to Cadena SER on Thursday from his new home in London after joining Tottenham in the summer.
Reguilon was one of two Madrid players to join Jose Mourinho's side, with Wales international Gareth Bale also returning to his old club.
"It's great," Reguilon said of working under Mourinho. "He's the type of manager I like: demanding, intense... He's happy, but when we don't do what he wants he gets angry, like any coach... He's really close to the players."
On Bale, Reguilon believes the forward is happier in London than he was in Madrid.
"He's really happy," the Spain international added. "I notice a difference. The language is everything for him. He speaks Spanish well, it's not bad, a bit like my English, but communication, the habits, mean he's happier in England."
And he also revealed that Tottenham have gone out of their way to ensure Bale is happy back at the club.
"What most surprised me is at the training ground there are golf holes," he revealed. "I asked and they told me they were put there for him. They're short holes, maybe 30 metres. I couldn't believe it!"