Real Madrid hope to finalise deal for Real Betis star Dani Ceballos
The player says he will make a decision on his future after the U21 Euros
Madrid would be willing to send him back to Real Betis on a season-long loan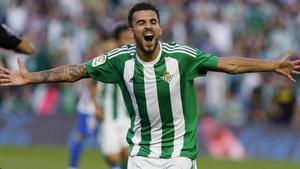 Real Betis midfielder Dani Ceballos, who is enjoying a fine UEFA U21 Championships with Spain, is close to becoming one of Real Madrid's new signings for next season.
Ceballos, one of the biggest stars to emerge from Betis' academy, would sign a five or six year deal with Real Madrid. Florentino Perez's strategy in this case has not been aggressive, aware that Ceballos is a fans favourite in Seville, and he is willing to pay more than the 15 million euro release clause in order to maintain good relations between the clubs.
Ceballos, though, could then continue at the Benito Villamarin for one more season on loan. Firstly, to make his transfer less traumatic and, secondly, to allow Betis to keep hold of him for another year while they decide on a succession plan.
And finally because Ceballos still needs minutes so that his progression does not slow down and it's difficult for him to get as many as he may like under Zinedine Zidane at Madrid. Everything, though, will depend on how Madrid structure their squad this summer.
There's still one more aspect, too. By signing for Madrid this summer (and not next year), Los Blancos would beat rivals Atletico and a number of other clubs to the talented midfielder.
Like Barça targets Hector Bellerin and Gerard Deulofeu, Ceballos has said while in Poland with Spain U21s that he will make a decision on his future after the tournament ends -- Spain play Germany in the final on Friday.