Now Real Madrid do finally want to talk about VAR in La Liga
Emilo Butragueño complained about events against Valencia on Sunday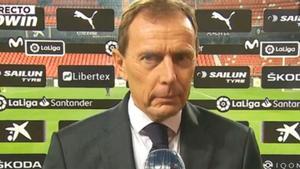 Emilio Butragueño, Real Madrid's director of institutional relations, changes his discourse dependent on his team's result, as evidenced following Sunday's 4-1 defeat to Valencia. At the end of the game at Mestalla, and despite having praised VAR several times in recent months, he complained about the use of the technology in comments which contradicted what he's said before.
"We understand that VAR is there for that, but I think it should look at the whole move from the start, there's a foul on (Marco) Asensio," he complained about one of the three penalties given against Madrid. "Then, in the second half, there's a second penalty against us. It's a personal opinion, but I thought the referee was going to give the foul in our favour. The final penalty is an accident."
On a supposed foul on Asensio before Valencia made it 2-1, Butragueño commented that "VAR intervenes but when it does it must look at the whole move. Valencia win the ball back (illegally) and in the same play win the penalty. VAR must review the whole move."
Remember that Butragueño is the first to praise and defend VAR when it's been used to Madrid's benefit. "VAR is a useful tool for referees. The final decision is made by the referee. We have little to say about it, we won't assess it or talk about it," he said after Madrid's game against Sevilla a few months ago.