Luka Modric: Talking not enough, we have to do it on the pitch
The Croatian was criticial after Real Madrid lost at Shakhtar Donetsk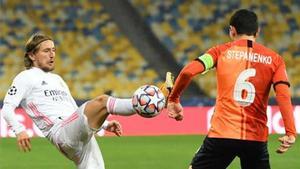 Luka Modric spoke to the media after Real Madrid stumbled to defeat by Shakhtar Donetsk.
"There's still a game to go, we'll see what happens in Inter's match and see what we have to do in the last game," said Modric. "Madrid have showed that when we need to win, we can do it. (However) we have to show it on the pitch because words aren't enough."
He admitted "We lacked the consistency we've always had. We have a great game, two bad ones, a good one, two bad ones. We lack that consistency and we have to improve as soon as possible.
"When the opponent goes ahead we're not good, we lose confidence, and we don't play as we did before they scored. We have to change that, look for solutions to improve."
The Croatian complained about a lack of goals.
"We create chances but it's hard for us to score. If we won't score then it makes things hard for us. That's football and maths and it won't always go as we want. We have to look positively, there's still a game left and we will fight to the end."