Julen The Brief III: Real Madrid's shortest managerial reigns
Lopetegui has been in charge at the Bernabeu for 132 days so far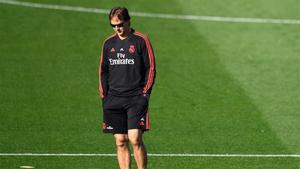 Julen Lopetegui's days are numbered as Real Madrid coach. The club have decided to get rid of him as soon as they have a replacement, although he's been given an extra week, which takes in Tuesday's Champions League game against Viktoria Plzen and Sunday's Clasico. He will become the club's third shortest-serving coach in their history, after Mariano García Remón and Arsenio Iglesias.
Lopetegui's been on the bench for 132 days, with 12 games, five wins and five losses leaving him under intense pressure. In fact, he's the second shortest-serving coach under Florentino Perez, behind García Remón, who lasted 101 days. The same as Lopetegui, he took start of the season but only lasted three months.
The second shortest-serving coach in the club's history was 'Brujo' Arsenio Iglesias, the creator of Super Depor. The Galician coach was in charge for 126 days. In contrast to Garcia Remon and Lopeteguo, he took charge after Jorge Valdano was sacked mid-season. Juande Ramos (174 days) and López Caro (178) complete the top five.
There were other managers who lasted less time, but they only came in as temporary coaches, or they quit themselves, as was the case with José Antonio Camacho in 2004, who went 117 days after arriving.
In the other extreme, the longest-serving coaches, the top spot is held by Miguel Muñoz, who was at the helm for 5,025 days. He is followed by Vicente del Bosque (1,314). Zinedine Zidane (878) is also in the top five but he is behind Jose Mourinho (1,097) and Leo Beenhakker (1,095).