Isco and Marcelo working hard to repay Zidane but Madrid would sell
The duo have lost weight at the club but still have the backing of their coach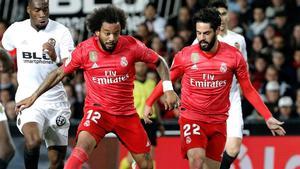 If there are two players that have been rejected at Real Madrid, it's Isco and Marcelo. When Zinedine Zidane resigned in May 2018, both were refugees of their own success, on long contracts and paid too much. They lost their shape and lost their place in the team. In fact, Madrid made them available for transfer the following summer but the return of Zidane put the brakes on them both leaving.
Two and a half seasons have passed since that Champions League win in 2018 and they've both disappeared from the starting XI. Their performances have dropped from the level they were at for so many years. And it's been discovered by the team, with results dipping when they play. Only the return of Zidane kept them around. If not, they would have left a long time ago.
ZIDANE
Zidane has never given up on them and has always backed himself to get them back to their best. He feels in debt to them for all they gave him in his first spell.
"I will never forget everything they gave me," Zidane said in December. "They have to work hard, as they are doing."
Marcelo and Isco are both working hard to return that confidence. Both have taken on new personal trainers to help them get back to their best.
Isco's beginning to show signs of recovery, getting back in shape and getting minutes. Against Osasuna, at the weekend he looked more agile in the 15 minutes he had on the pitch.
Marcelo is also willing to work hard but is struggling to find his best form. At 32, he's focused on proving himself to Zidane.
Both are back on the transfer market, but Zidane is still counting on them. If he can help them back to form, president Florentino Perez will find resistance from Zidane when it comes to selling them.
NEW FC BARCELONA PODCAST IN ENGLISH