Eden Hazard goes off injured again for Real Madrid
The Belgian had to be taken off afrer 28 minutes against Alaves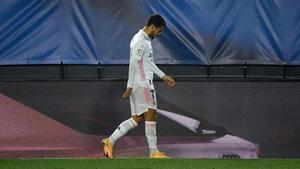 Real Madrid forward Eden Hazard had to go off after 28 minutes because of physical problems. The Belgian forward has suffered with injuries since signing for Madrid and this latest set-back against Alaves looks like another muscle problem.
He had a clash with Ruben Duarte which may have caused the injury and he was replaced by Rodrygo, with Marco Asensio moving over to the left flank.
Hazard has played 28 games for Madrid with a pitiful tally of three goals and four assists. Very bad numbers compared to him at his best, what he did for Chelsea. This season he has netted two, against Huesca, then a penalty against Inter in midweek.