Customs officers search Cristiano Ronaldo's yacht
Three armed agents inspected Cristiano's yacht in Formentera
The Portuguese is facing various charges from the Spanish tax authorities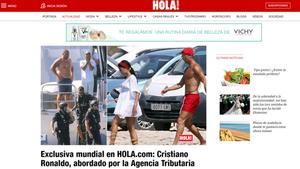 Cristiano Ronaldo is having some busy holidays which reached their peak on Wednesday as armed customs officers searched his yacht "AYa London" in Formentera. According to the magazine "Hola" three armed agents approached the Portuguese player when he returned to his boat after dining with his family, who could not believe what was happening.
According to Hola, the police entered the yacht and covered the area they were searching with a tarpaulin so that the player and his family could not see what was happening. The events were recorded by a camera carried by the customs agents. The search reportedly lasted an hour and a half.
Cristiano Ronaldo has problems with the Spanish tax authorities since he was accused this year of four tax crimes committed between 2011 and 2014 and now customs agents have searched his boat. The player was enjoying his last days of holidays before starting pre-season with Real Madrid.