Courtois: Bale's flag celebration was just the euphoria of the moment
The Real Madrid stopper has defended his teammate amid a barrage of criticism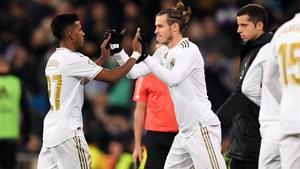 Goalkeeper Thibaut Courtois has defended the Gareth Bale celebration which drew the ire of Real Madrid supporters at the weekend.
Madrid fans ferociously whistled Bale when he was introduced against Real Sociedad on Saturday after he mocked the club during the scenes which followed Wales' qualification for Euro 2020.
Bale celebrated with a Wales flag which carried the slogan: 'Wales. Gold. Madrid. In that order.'
The celebration didn't go down well in the Spanish capital but Courtois said it happened in the heat of the moment and talked up Bale's important to the team.
"We want him to help us win," the Belgian international said in a press confdrence. "It was the euphoria of the moment and it's been made bigger than it is.
"I know Gareth, he's a great professional. You saw how he played the other day. He wouldn't have played like that if he wasn't committed."
Bale is expected to feature again on Tuesday when Madrid host Paris Saint-Germain in the Champions League.