Asensio misses Madrid's Champions League opener due to leg shaving problem
A pore became infected when the Spanish forward was shaving his legs
He will not play against APOEL because he cannout pull up his socks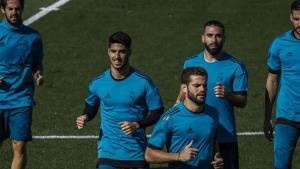 Marco Asensio is out of Real Madrid's Champions League opener against APOEL and the reason for his absence is incredible.
The young Spain star was removing hair from his leg when the problem arose, as explained by his coach Zinedine Zidane ahead of the game.
"He has a pimple on his leg which stops him pulling up his socks," explained Zidane, despite the fact Asensio had been able to train on Tuesday.
The reason for the problem is that after shaving his legs, a pore in his leg became infected, which now subsequently stops him wearing his shinpads and socks correctly.
What should have just been an anecdote has become a minor problem and left Asensio out of the Madrid squad.